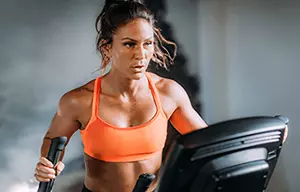 Physical Health or an active lifestyle has always been important to humans; a fit body helps to stay mentally healthy and boosts to fight against illness. To maintain health, people adopt a particular eating routine and understand the importance of exercise as well.
Instead of getting a gym membership, home indoor gyms are in trend, and users keep fitness machines in their homes for the purpose.
Among all the other indoor gym equipment, Teeter Freestep Recumbent Cross Trainer and Elliptical are some of the bike exercise machines for upper and lower body workouts.
The teeter brand is in the business for about 35 years now and is still reputed among the best manufacturers. The friction-free silent workout machine is ideal for people with back pain, knee pain problems, and those who want to burn more calories in less time.
Recumbent bikes are more popular among people nowadays due to their amazing seats and low pressure on joints. The ideal cross trainer and elliptical do not burden you with any pain during or after the exercise but assist you in engaging maximum body muscles with less effort. The safe-to-use recumbent bike does not pressure the back or knees as you sit in a most comfortable position.
Teeter Freestep Recumbent Cross Trainer And Elliptical Review
Those who have used road bikes or upright bikes have complained about several pain issues, including back and knee pain. But the modern teeter free step recumbent cross trainer is equipped with the latest technology to make users' riding experience more pleasant and beneficial.
The multiple adjustment options, dual power motion, smart design, and the quality frame has made it the best choice for indoor usage. The recumbent bike is easy to assemble, and one person can attach all the parts with the help of instructions easily.
The moving handles and front paddling distributes muscle exertion throughout the body means you can burn more calories in less time than any other alternative machine.
Functions of Teeter Freestep
The greatest selling point of a teeter freestep recumbent cross trainer is its effective zero impact stress-free cardio workout.
Those who need to exercise with arthritis and back pain can ride at home easily without experiencing any significant pain.
Patented Stride Technology Keep Joints Safe
Traditional exercise techniques usually create load on the back, knees, and hips whereas the amazing striding motion of Teeter Recumbent Bike protects all these crucial body areas against pain and stress.
The innovative features make it the best alternative to running, treadmills, stepper, and traditional ellipticals.
Dual Power Motion Burns More Calories
The push-pull technique of the teeter recumbent bike helps in promoting a total body workout. The dual power motion builds more lean muscles so the fat-burning process can continue within your body even after working out.
Furthermore, users can easily focus only on lower body workouts and free their arms for relaxation.
Smart Design
No doubt, the smart design of the cross trainer and elliptical has enhanced their working quality. The digital console with a smart device stand entertains you with music or you can monitor your time, calorie burn ratio, speed, and distance for an effective training program.
The beautiful design and amazing frame finishing ensure its durability and transport wheels can easily roll it away for storage.
Adjustable Settings
With multiple seat adjustment options, you can choose from 3 recline settings to get the perfect and comfortable position for your body.
Free stepper exercise machine easy posture helps stay for a more extended period and engages the upper and lower body muscles for effective results.
Adjust the magnetic resistance level with the turn of the knob and target different upper body muscles with a rotating handle setting.


What We Like
Best for physical therapy or knee therapy
Smooth elliptical pedals
Heavy-duty transport wheels
Near-silent variable magnetic resistance
Muscle targeting option
Comparatively, burn more calories
What We Don't Like
Not suitable for beginners
May face mechanical defects
Buying Guide
The latest technology features in recumbent bikes have made it more advanced and valuable. Although there are numerous options available in recumbent bikes, we recommend the above teeter freestep review before making any purchase.
But there are few factors you must consider before selecting any of the recumbent bikes.
Adjustable Seat
The recumbent bikes are all about the comfortable seat and its adjustment options. Make sure the bike has multiple seat and backrest adjustment options to cater to every user's height.
Structure Size
At home, we all need fitness equipment that requires less space. It is better to take measurements of available space and make decisions accordingly. The small size bike may limit the users due to weight capacity issues.
Build Quality
The build quality is an essential factor to look at in a product; buying a recumbent bike is a long-term investment, so the frame must be built of high-quality material. It makes the model more reliable, durable, and safe to use.
Multiple Features
The multiple technological features have increased the quality of recumbent bikes and made them unique among other workout machines. Choose equipment that justifies the value for money with advanced technology and workout routine programs.
Resistance
The modern recumbent cross trainers come with a magnetic resistance feature that can be increased or decreased with the help of changing the knob or through console buttons. It is better to have at least 8 levels of resistance for an effective workout session.
Some Last Words
Although the recumbent bikes are one of the most affordable and effective indoor gym equipment for users of any age, teeter free step recumbent cross trainer and elliptical comes with a total body workout option.
We have tried to apprise you with the teeter freestep recumbent cross trainer review and by elaborating on its exclusive features. The cross trainer elliptical can be a great deal for your indoor house gym as it accommodates multiple users of different weights and heights with ease.
The budget-friendly recumbent cross trainer and elliptical is by far the best option you can buy this year.


About Author
Chris Herry has a Master's Degree in Sports Science and has worked for fitness brands. He is a regular writer for websites and magazines. Discover his opinions and experiences in all objectivity with regard to fitness equipment, especially about a recumbent bike.