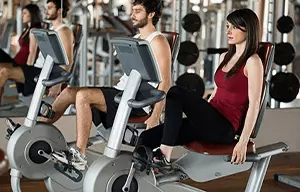 In this article – we'll help you decide if the Schwinn Fitness 230 is for you. Learn about features and optional extras in this review of the popular bicycle.
Get yourself one of the best workout equipment in the shape of a stationary recumbent bike.
This is not only a perfect machine for Cardio, but you can actually strengthen your lower body with the help of this. And what else would get you better than the top-leading Schwinn Fitness 230 recumbent bike?!
With that being said, this recumbent bike is designed to meet all the needs of oldsters, as they barely can use any other workout machine so easily.
Adding to this, the comfortable reclining position of this recumbent bike allows you to paddle all through the day; and guess what? You won't feel exhausted even after that.
Apart from this, the overall performance of the Schwinn recumbent bike is guaranteed with its name, as it holds a reputable position in the market.
You won't find any of the reviews that have not included one of the masterpieces from the Schwinn store.
Having said that, the stunning appearance of this exercise machine appeals to most buyers. And for those who are style enthusiasts, nothing would get any better than the Schwinn 230 bike.
You better start off your workout journey with this stylish piece of equipment.
On that note, let's dig a little deeper into the topic and get down to the basic information regarding this recumbent bike:
Schwinn 230 Recumbent Bike Review
Buying Guide
When you finally convince yourself to spend a lot of dollars on a recumbent bike, then you need to be cautious about the overall performance and built quality of the product. So check out the details regarding this aspect, mentioned below:
Basic Equipment: Firstly, make sure that your recumbent bike is loaded with all the necessary features. And the most important of all of them is the availability of adjustable settings.
Performance: Secondly, keep an eye on the performance factor of the bike that you are going to buy. That means you need to check the sturdiness of the product.
Longevity: Lastly, make sure that your recumbent bike is worthy enough to sustain for a longer period.
Key Benefits of Schwinn 230 Bike
With that being mentioned, let's get towards the details of the tremendous features of the Schwinn Fitness 230 recumbent bike:
16 Levels of Magnetic Resistance
Firstly, you'll see that this recumbent bike offers you great magnetic resistance at 16 different levels. You can adjust the settings and mode of your Schwinn 230 bike by manipulating the built-in magnetic resistance system of the machine.
Besides, the level of quietness and calmness in the environment, while you paddle this stationary bike, is commendable. It helps to reduce extra noise coming out of the machine while continuous paddling.
Bluetooth Connectivity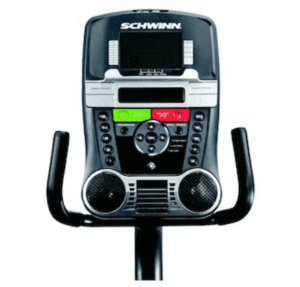 In the second place, the thing which is worthy of appreciation is the advanced Bluetooth connectivity option available on the machine. You can connect any of the apps via Bluetooth, in order to track your activity on the bike.
Besides, it enables you to set and monitor the progress as well. And all of that can be done with the help of popular app-based tracking tools.
Compatible Apps
One of the most exciting features of this recumbent bike is its compatibility with two different kinds of apps. You can connect the Schwinn bike's LCD with the Explore the World, and Zwift app. Having said that, this will help you to engage in entertainment while working out on a comfortable machine.
Comfortable Seat
Last but not least, the seating of the Schwinn Fitness 230 recumbent bike is quite different from that of the regular bikes. Not that it isn't good, but you would see a different kind of shape in that.
Besides, the long backrest of the seat allows you to recline in a comfortable posture. This really helps in getting rid of back-strain and neck-strain.
Key Considerations for Bike
Style: Not only performance is worthy to consider, but style also matters a lot. So you must not ignore the element of aesthetics, as there is nothing bad in exercising on a stunning machine.
Budget: Another important aspect to be taken care of is the budget range of the recumbent bike. For sure it is a huge investment, but still, there are plenty of options out there that offer a reasonable price tag. So you better look out for them as well.
Tips and Tricks to Use Schwinn Fitness 230 Bike
So now it is time to shed light on some of the important aspects of using a recumbent bike, especially the one manufactured by a leading company. So make sure that you read it through the end to learn the basics before going to use the Schwinn Fitness 230.
That said, here we begin:
Firstly, you make sure that the bike is placed in a proper place. The reason is that this stationary bike is quite hard to move frequently, as it doesn't feature any wheels for portability.
Next, the app compatibility is only useful when the applications are already subscribed. So you gotta do that first.
In addition to that, another important tip for using the Schwinn Fitness 230 bike is that you better keep an eye on the heart rate being displayed on the front screen.
Expert Opinion
As we have already discussed that Schwinn is one of the many leading brands in this industry. So you would see a lot of opinions and feedback about its products. And that will compel you to buy it immediately. So without further ado, let's check them out:
Schwinn Fitness 230 is best for the style-enthusiasts.
It helps in monitoring your overall performance.
It helps in keeping a track of your heart rate.
The Good
300 pounds weight capacity
Built-in fitness programs
20 resistance levels
Two user profiles
Sound system and MP3 player port
The Bad
Light flywheel
Not suitable for over six feet tall
The seat isn't cushioned and comfortable
Buy Now on Amazon
Some Last Words
Schwinn Fitness 230 recumbent bike is a versatile machine that can give you an amazing experience of exercising indoors. Apart from the performance factor, the durability and appearance of the machine are what make up most of the potential buyers.
So to conclude, we can say that this is one of the best recumbent bikes that you can buy this year, only if you ignore the maneuverability factor.
Recommended Reading
Are you in search of the best recumbent exercise bike? Don't make a purchase before reading this buying guide.
Overweight? No issue, you can put off your weight by using a recumbent exercise bike that is designed for heavy people.
About Author
Chris Herry has a Master's Degree in Sports Science and has worked for fitness brands. He is a regular writer for websites and magazines. Discover his opinions and experiences in all objectivity with regard to fitness equipment, especially about a recumbent bike.