Last Updated on April 7, 2021 by Chris Herry
Confused about what to choose between a Recumbent bike or a Stationary Bike? Well, this article brings the two bikes to head explaining them from every aspect. After reading, the Recumbent bike vs Stationary bike dispute will be forever settled in your mind because you will know which one is better for you.
Home workout is the easiest to keep yourself fit and an exercise bike will just make it better. They are not only compact but also offer intense and productive workouts. So, you do not need to visit the gym daily because you can achieve the same effectiveness at home with a small investment.
Recumbent Bike VS Stationary Bike – An Overview 
Bikes have been generally categorized into a Recumbent bike and Stationary bike which is also called an Upright bike. Both have them have gained a reputation because of the output they offer. Let's have an overview of both the bikes.
What is a Recumbent Bike?
A recumbent bike is for you if you are a workout enthusiast but like to exercise in comfort. This bike allows you to be completely comfortable and relieved during exercise sessions. No matter what height everyone can easily exercise on Recumbent Bike with ease. Looking at the appearance, it's a chair and bicycle.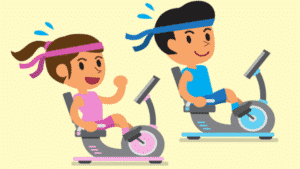 The seat is chair-shaped, which supports your back during the long-term and short-term exercise sessions. The body naturally gets into a reclined position which saves you from back pain and strains. To further increase your comfort level, there are soft rubber-based handles to grab when bent forward.
Below the, handles there are pedals to fit your feet in. The bike has been designed intelligently to keep it stable during intense exercise. So, work out with a relaxed back or grab on to handles your choice. With free hands, you can make exercise fun for you. Watch TV, tune into a favorite movie on Netflix, or read your favorite book.
Some people have questioned the effectiveness of a Recumbent bike as compared to a stationary bike. However, according to fitness experts, it burns the same amount of calories. Also, due to enhanced comfort, you can extend the cycling duration which leads to more burnt calories.
What is a Stationary bike?
The stationary bike has gained enormous fame amongst fitness experts due to its effectiveness. It not only allows immense exercise but now it has also been introduced with advanced tech features to make your work out more productive.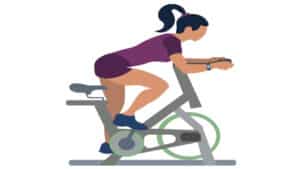 The bikes are designed to keep your posture in an upright direction just like an ordinary bicycle and nevertheless, you are exhausting almost the same amount of energy.
The stationary bikes are compact in design unlike the large size recumbent bikes and you can easily find foldable models to save your space after exercise. In terms of exercise, the bike makes you feel like cycling a traditional bike but inside the room.
You can stand up, get seated again, and use the pedal as per your workout program. Keeping in view the safety aspect fitness experts do not recommend this bike to elderly people especially for those who are already having back issues.
Staying in an upright direction and bending for a long time can intensify back pains. Due to the high center of gravity, it may become unstable during fast exercise as well.
Difference Between Recumbent Bike and Stationary Bike
When talking about Recumbent bike vs Stationary bike it is necessary to mention the difference between the two. Let's have a look at the brief differences between these two bikes for your better understanding.
In a Recumbent bike, your body will be in a reclined position and you do not need to hold on to the front handlebars to carry out the exercise. While with the stationary bike you will have a straight upright posture and you will be holding the handles throughout the session.
In a stationary bike, pedals are located below the seat and under the body contrary to the other bike where they are located in front of the seat. The lack of back support makes it uncomfortable for the rider to sit for a long time whereas the recumbent bike provides a comfortable exercise experience with full back support.
In terms of exercise, the Recumbent bike offers only work out of the lower body and cardio while with the Stationary bike your whole body is engaged in the extreme workout.
Recumbent Bike Benefits
There are different benefits associated with a Recumbent bike that gives it an edge over a Stationary bike. With the heavy price come the convenience and comfort as well. It is suitable for people with spinal injuries as it eases the lumbar spine during exercise. This makes sure that you can continue the exercise with injury or age issues as well.
With the spine, it is also gentle on other parts of the body and joints. The ankles and knees are protected. When discussing Recumbent bike Vs Stationary bike the seat is the most differentiated feature. With a larger seat, it attracts most of the people. It is suited for people with neurological conditions or lower body diseases.
Stationary Bike Benefits
A stationary bike is the best choice to acquire cycling experience in the true sense. The bike trains you in building muscle strength, boosts your stamina, and involves a complete body workout program.
Not to mention the pedaling, leaning posture, and resistance levels improve your cardio-respiratory capacity, which is an important factor for stamina building.
Along with the physical benefits the stationary bike is way safer than road cycling, with the same calories burn you avoid the outdoor weather, traffic, road conditions, and hot/cold weather.
Critical Factors Associated with These Bikes
There are certain important factors that are always discussed when mentioning a Recumbent bike vs a Stationary bike. These factors will help you decide which bike can be the best choice for your gym. Let's have the overview:
Calories Burn
Obviously, the most basic thing related to exercise is the burning of calories. The exercise will lose its true sense if it does not break down the extra body fat to gain fitness. Thus, a workout that burns more calories can be classified as best.
Both the Recumbent and Stationary bikes have been tested for calories burned. There was a misconception earlier that a Recumbent bike provides easy exercise so there less fat burning. However, it was proved later that convenience has nothing to do with the calories burnt.
To determine which bike fits your choice, you need to ask and think thoroughly depending on your physical condition and fitness goals. You will able to work harder on the bike you are convenient with leading to faster fitness. So, it is vital that the bike is perfectly suited for you and your environment.
Injury Risk
Some people think that with physical injury or spine issues they will never be able to exercise and gain physical fitness. This makes them lose their heat but where there is a will there is away. With some effort, you can resume your exercise routine in no time for which you will need to purchase a Recumbent bike.
There is another reason, Upright bike also poses a threat as you are prone to injury. With continuous riding and exercising you will likely get sore hip bones at the end. There is a different approach to work out on both bikes. In the Stationary bike, all of the body weights are being sustained by two tail bones of the spine.
Due to continuous pressure, you might have lower back pain in no time. With a Recumbent bike, the weight is distributed to the buttocks as well along with tail bones and you can easily adjust your balance. In terms of injuries, an Upright bike also lays stress on the quad muscles or knees due to movements.
Muscles Involved
Since both the bikes have one major design difference that changes the complete course of muscle involvement during exercise. In the recumbent bike, pedals are placed in front so you can ride the bike without leaning forward, thus you only use your lower body muscles such as quadriceps, hamstring, shins, calf muscles, and glutes.
Whereas the stationary bikes pedals are below the seat you can experience the same traditional bike ride but indoor. Along with all the lower body muscles, while leaning to the handles all the upper body muscles core, back, neck, biceps, and shoulders work during the workout session.
Ease of Use
Your exercise machine should be easy to use to provide you the best workout experience. The easier it will, the more you will use and enjoy it. Both Stationary bikes and Recumbent bikes are easy to use but the ease widely depends on your requirement.
Although the workout session with the stationary bike is not as easy as it seems, being an indoor bike, you can use it at any hour of the day. It keeps you engaged in pedaling and encourages you to test your limits and improve day by day without any inconvenience. You can burn more calories in less as compared to the recumbent bike.
The recumbent bike is suited for more relaxed people who do not exercise enthusiastically but want to remain in shape. It allows you to do other activities along with moving pedals too. You can scroll through your phone and play favorite games.
Drawbacks of Recumbent Bike
A recumbent bike is not a perfect bike. It has some drawbacks associated with it that you need to know before making the purchase.
You might get a sore knee due to cyclic pedal motion.
It does not involve arm and shoulder muscles in exercises like biceps and triceps.
It does not engage spinal muscles.
Drawbacks of Stationary Bike
The disadvantages of Upright bike are mentioned as follows.
Brings discomfort to back.
Difficult to retain balance while working out.
Unstable design due to the high center of gravity
Muscle fatigue in hips and back
Recumbent Bike vs Stationary Bike for Weight Loss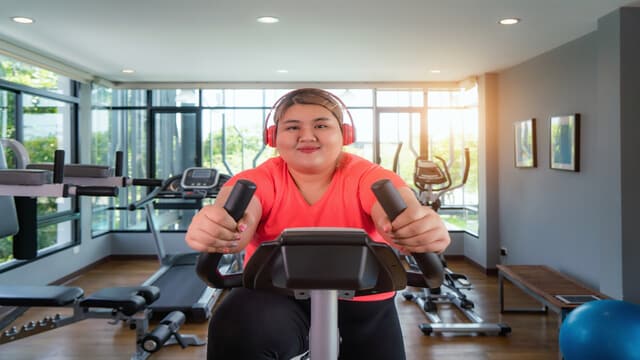 If you are suffering from obesity or overweight and your goal is to only lose weight in a healthy way then the Stationary bike should be your ultimate pick. It offers more productive and intense exercise for the whole body while a Recumbent bike is more suited for gentle and slow exercise.
Not only that, with Upright bike you can lose weight fastly as well. It also offers High-Intensity Training (HIIT) which has been proved beneficial for people on the weight loss journey.
In the end, we cannot recommend a bike because it entirely depends on your need and requirement. However, we have explained which bike is suited for which condition. Some may prefer comfort over workout but not want to miss exercise entirely. The main goal is to achieve fitness and you have to choose your own path for that.
Regardless of the Recumbent bike vs Stationary bike, which bike you choose, remember to use it and not make it sit in one corner of the house. The workout will only be effective only if you put some effort into it and work hard for that. Soothe your body, release your stress, and maximize mental health with exercise!
RecommendedReading
Recumbent bike for overweight people
Recumbent Bike and Elliptical Combo
FAQ
Which burns more calories recumbent bike or stationary?
Both types of bikes target different kinds of body muscles, recumbent bikes are more focused on lower body parts without involving the upper body especially the arms, and keeping heartbeat at a normal rate.
Whereas the stationary bike engages most of your body such as arms, abs, legs, neck indeed gives you a total body workout to burn more.
Are recumbent bikes better than stationary bikes?
The recumbent bikes are known for comfortable sitting posture and the perfect equipment for your knee rehab whereas the upright or stationary bikes are for more passionate fitness people who want to attain the traditional bike experience but in an indoor gym.
Does cycling flatten your tummy?
Cycling provides both muscle and cardio benefits, it does not engage stomach muscles directly but shaping the lower body and legs muscle particularly. However, with a few postures and the trainer's guidance, you can contract the belly muscle to burn calories and get in shape.