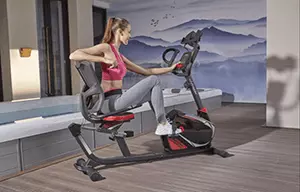 In this article – we are going to review the HARISON Magnetic Recumbent Exercise Bike.
I am an experienced professional in the field of exercise equipment who has put together this guide to help you determine if the HARISON Exercise Bike will suit your needs.
Overview
HARISON Magnetic recumbent bike is an amazing stationary exercise machine that gives the ultimate support and power to the oldsters. So no matter how far you've made it in terms of age, you can continue your workout sessions by leaning and paddling from the comfortable HARISON Magnetic bike.
Having said that, the usage of this machine is quite vast, and you can actually have easy-going workout equipment that can boost your blood-flow rate. Adding to this, the HARISON recumbent exercise bike helps in the movement of joints and muscles of your lower body.
Apart from this, the thickly-padded seat provides you with next-level comfort and ease. The extra cushioned and cozy seat of the HARISON Magnetic recumbent bike leaves no impact of hourly training on your body, just like that of an upright bike.
HARISON Magnetic Recumbent Exercise Bike Review
So that's what makes all the difference! Now without further ado, let's get down to the other important details of this amazing bike:
Buying Guide
Now here we are going to discuss some of the key points that you need to keep in mind while you choose from the HARISON Magnetic recumbent bikes series. So let's begin:
Handlebar: Make sure that your recumbent bike has installed an ergonomic handlebar, in order to ensure seniors' safety while stepping through the bike.
Weight Capacity: Next thing that you should be taking care of is that the weight of your recumbent bike should be bearable so that portability is not an issue. And HARISON stationary bike ensures that you get a pretty lightweight machine for your workout.
Durability: Many of the other important factors that are to be kept in mind is the durability and sturdiness of the machine. Because there is no point in spending hundreds of dollars on a product that does not even last a year.
Key Benefits of HARISON B8
That said, let's get down to the detail of some of its highlighting benefits that are important for you to know:
Easy-to-read Digital Monitor
First things first, the HARISON Magnetic recumbent bike features a pretty cool digital monitor that keeps a check on your activity. You can just simply lean on the backseat, paddle the stationary bike, and let the monitor do the maths for you. Adding to this, you can even keep a check on the daily goals that you set for yourself. Isn't that amazing?!
14 Level Magnetic Resistance
Now the next thing is that your recumbent bike doesn't even make a single sound while continuous and aggressive paddling. With the help of its multiple levels of magnetic resistance, you can actually have a sound-free environment. So now you can listen to your favorite audio tracks playing by your side, with no other sound effects being mixed.
Premium Solid Construction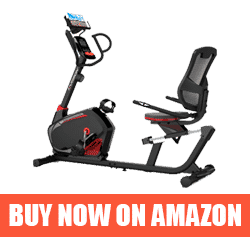 The most important fact about the HARISON magnetic recumbent bike is that it is built extra strong and sturdy that you won't feel any of its sides wearing out, or the paint getting scraped.
Besides, it is capable enough of bearing the maximum amount of weight. Apart from this, an easy step-through design helps people to easily get on board. So this all conveniently makes it best for seniors as well.
Adjustable Seat and Backrest
This is the utmost important thing in a recumbent bicycle. You have all of your body weight being stressed down to your lower body, and that needs to be handled effectively.
So make sure that your recumbent bike is extra padded at its seat and even at the backrest; just as the HARISON recumbent bike is. Apart from this, the backrest helps you to keep your back straightened while you paddle continuously.
Economical Price
You might be thinking HARISON B8 recumbent bike equipped with elegant features thus it should be expensive. But not at all! The top trending exercise bike is under $500.
Key Considerations for HARISON Exercise Bike
Seat Adjustments: I'd suggest you not ignore the seat adjustment settings and lever control system of the HARISON Magnetic exercise bike. This is quite disturbing when the lever is incapable of adjusting your seat at your desired position.
Holders: Recumbent bikes' exercises take quite a long time, so you need something to pass time with. For that purpose, you better check whether your recumbent is equipped with IPAD or tablet holder or not.
Tips to Use a New Recumbent Bike
Now that you have got a brand new recumbent exercise bike in your house, but guess what? You have no idea where to start with. Or how to make the most out of it. Well, that is not a problem with us! And we'll definitely try to give you some comprehensive tips so that you can kick-start your experience like a pro. That said, here we go:
Seat adjustment is of utmost importance. Always keep it at a height where your lower body is engaged completely in exercise.
While you begin with your workout session, you must start off lightly.
Do not paddle aggressively at the very beginning.
It is better to engage your mind in some other activities while paddling. This will help in proper and easy blood flow.
Expert Opinion
So the comments about this HARISON bike will trigger your decisions and you'll get fully convinced to buy this masterpiece. So better have a look at these and make sure that you know all the perks of having this recumbent cycle already. That said, let's get down to it:
The convenient step-through design makes your experience even easier.
The easy to read digital monitor is accessible and readable by almost every other person.
No technicalities are involved in its manufacturing.
The Good
Comfortable seat
Quiet bike
Heart rate monitor
Vented and comfortable back
Easy to assemble
Affordable price
The Bad
No preset workout programs
Seat adjustment is a little inconvenient
Some Last Words
And it's a wrap! HARISON Magnetic recumbent bike is one of the top-most exercise machines that you can have this year. So if you are willing to start working out on daily basis, then you better consider HARISON in this regard.


Compare with other Recumbent Exercise Bikes
About Author
Chris Herry has a Master's Degree in Sports Science and has worked for fitness brands. He is a regular writer for websites and magazines. Discover his opinions and experiences in all objectivity with regard to fitness equipment, especially about a recumbent bike.