Recumbent bikes are the best cardio ambassadors. No, I am not kidding! If you are in for some cardio action, you got to hop on the recumbent bike. Want to lose weight and you prefer to work out from home? Well, a recumbent bike should be the first piece of equipment on your bucket list.
Several questions pop up in the mind going forward! How many resistance levels should my recumbent bike possess? Should I give preference to a step-through design! Hold onto your horses, as we will guide you from start to finish. On how to choose a
recumbent exercise bike
for your next cardio shift!
Below are some of the essential features, you simply cannot compromise. When you are on the hunt for a recumbent bike, keep these points in the back of your head. So, that you can end up with a swift and stylish recumbent bike. One that is a complete cardio package!
11 Key Points for Selecting the Recumbent Exercise Bike
Keep these points in mind while you are going to choose a recumbent exercise bike.
1. The Dimensions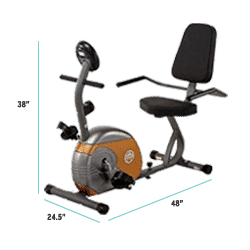 First things first, dimensions are not a massive issue when it comes to a recumbent bike. Most of the models are generally compact and would easily fit into your apartment. However make sure that you choose a bike that fits your body size, this is what matters the most!
2. The Different Resistance Levels
Resistance levels are the real deal maker! These little magnets will push your leg muscles to the limit. Most recumbent bikes come with resistance levels ranging somewhere from 8 to 16. As a beginner 8 is the number to go with. But if you are a hardcore workout warrior why not try the 16 magnetic resistance levels offered in a recumbent bike.
3. The Quality of the Seat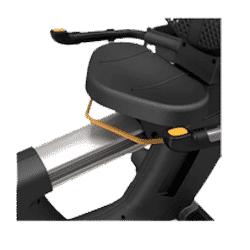 If your next recumbent exercise bike comes with an irritating seat, then I would suggest you take a walk. Because one of the reasons why you are making a lump sum investment in a recumbent bike is the padded seat! Modern recumbent bikes are equipped with ergonomic padded seats. These are fairly relaxing and let your muscles do the magic!
4. The Weight of the Flywheel
The weight of the flywheel is of quite significance. You should take the middle lane when it comes to this! So, I would suggest a flywheel that weighs anywhere from 45 to 50 lbs is good to go.
5. The Comfort of the Backrest
Now, in an intense cardio session, there are times when we are feeling low! Then it is better to have a comfortable backrest to lay your back on for a minute. You can take a sip of water! Change the music track if you wish, before you start pedaling again. But for all this to go down, your recumbent bike must come with a cozy backrest.
6. Seat and Backrest Adjustments
Seat and backrest adjustments are a must! The reason is fairly simple; body comfort is the key during an intense cardio session. Such minimalistic adjustments are the first things I would look for when I have to choose a recumbent bike for myself. Backrest adjustments are also given comfortable exercise mode to seniors.
Make sure, that you read the key reviews of the recumbent bike you have your eyes on. Because you don't want to be stuck with a recumbent that doesn't offer seat adjustments.
7. The Presence of a Multimedia Console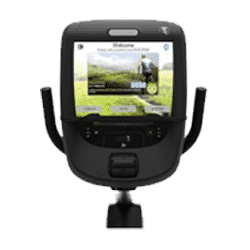 Training becomes even challenging after every shift. You start to lose the firepower that kept you on track. A convenient multimedia console can come in handy in such situations! You can play your favorite tracks; listen to the trending podcasts and much more.
In this way, you will never lose that hunger that keeps you motivated. Further, these multimedia consoles display every inch of information regarding your cardio session. Consequently, this information can be evaluated afterward to work out even better.
8. The Different Training Programs
Some manufacturers have taken it to another level. Gone are the days of analog recumbent bikes which barely had a thing on them. Today we have completely new renovated recumbent bikes. Those which are digitally outclassed and include tons of quirky features. Such bikes are often built with some training programs.
These training programs are extremely helpful if you have little idea about the cardio world. You can surely go for a recumbent bike with a sophisticated training program! I wouldn't second guess your choice.
9. The Resistance or Braking System
Several resistance systems come with the best recumbent bike. These involve the use of your flywheel. How harder can you go in a single training session? The resistance level on your bike can answer that. Well, the most famous resistance bikes are often equipped with magnetic resistance.
10. Compatibility with a Heart Rate Monitor
While hitting a cardio session it is essential to keep an eye on your heart rate. Many cardio equipments including exercise bikes come with a pulse monitor. You just have to simply attach it to your pulse and get that workout session going!
11. Price Range
Last but not least the recumbent exercise bikes have an open price bracket. It is a good bad thing if you ask me! The prices start at around 150$ and go all the way up to 2000$. So basically it is up to your budget and affordability.
However, as a first-timer, I would honestly recommend you to take it easy and invest in a mid-range bike. As a matter of fact, Schwinn 270 recumbent bike is a good option to look at. Later on, as your training progresses, you can surely upgrade to the next best version.
Some Last Words
Recumbent bikes are the primary cardio tool to invest in. These fantastic bikes are versatile and their common goal is to engage your muscles and get that heartbeat going. Now, when does the question of how to choose a recumbent exercise bike to arise?
The above-discussed key points should come in handy. Because, without any prior research and knowledge, you may end up with a crappy bike.
To save you from such hassles, we have summed up each point in detail.
I hope this article broadens your information pool on exercise bikes. And you can have a better insight the next time you are on the hunt for a recumbent bike.
About Author
Chris Herry has a Master's Degree in Sports Science and has worked for fitness brands. He is a regular writer for websites and magazines. Discover his opinions and experiences in all objectivity with regard to fitness equipment, especially about a recumbent bike.