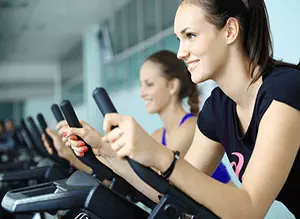 This is our review of Exerpeutic Gold 525XLR Folding Recumbent Exercise Bike.
Exercise is the best way to keep a healthy lifestyle. You can choose any form of active routine – walking, jogging, weight lifting, cycling, etc.
If you have enthusiasm you can adopt it, starting from an indoor workout routine.
To start with a cardio and low impact exercise what best form of exercise to choose than cycling.
Now no doubt, recumbent bikes are an essential part of every gym and training base. To avoid high gym fees and limitations caused by time, weather, or waiting for a vacant bike.
People tend to invest in their own bikes for indoor home fitness setup and that is very smart thinking.
Exerpeutic Gold 525XLR 400 lb Capacity Bike Review
Exerpeutic Gold 525XLR Folding Recumbent Exercise Bike is the latest addition to the Exerpeutic Family. The brand holds a great reputation for manufacturing the best foldable exercise bike.
The Energetic has always advanced the market with affordable, well-designed, and simple exercise equipment without compromising the quality.
The 525XLR bike is unique in many features but the simply designed high-quality steel-built frame and capacity to hold users up to 400lbs is the pomp and show.
Let's discuss in detail the multiple hallmarks this bike can prove.
Functions of 525XLR Folding Recumbent Bike
Steel Frame and Weight Capacity
The small and compact design may deceive you with its enormous capabilities and durability. The high-quality steel frame makes it a perfect exercise for users up to 400lbs of weight. The bike is extremely robust and stable, the leg stabilizers prevent the bike from wobbling.
Magnetic Tension
Recumbent folding exercise bike includes 8 levels of magnetic tension resistance, it's an ideal feature for beginners to boost their fitness by upgrading levels.
The levels can be changed from the resistance knob smoothly.
The flywheel used in the bike is lightweight that ensures a consistent and constant smooth ride to challenge your stamina.
Assembly
It has a 4 step assembly process, a small manual and 3 wrenches are included in the package. Without any experience, one man can easily assemble it within 30 minutes.
Seat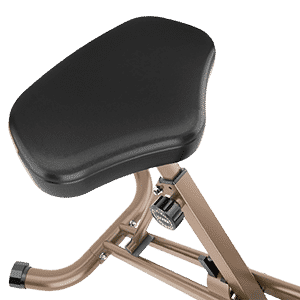 The seat is large and cushioned, best suited for users of every size and height. The adjustment setting makes it comfortable for all users to get a perfect position.
The adjustment knob with pre-set holes is dedicated for your ease.
Console
The console may be referred to as the brain of the bike, thus a large LCD with a number of meters is installed parallel to your eyes keeping the track of time, speed, distance, pulse, etc.
By pressing the button on the console you can choose any specific reading you want to view.
Pedals
It has large-sized pedals, that include grip straps to hold your feet from falling. Although it's an upright bike the pedals are attached in front and not under as an outdoor or spin bike.
The hard plastic pedals are durable and can bear intense workout pressure.
Pulse Monitoring
The integrated handlebar heartbeat sensor makes it an eye-catchy feature. The pulse is detected when gripping both the handlebars firmly.
The console keeps tracking the pulse to help you in scheduling your workout programs and intervals.
Crank System
The 3-piece torque cranking system makes this bike more astonishing. The system ensures a smooth ride and hardly makes any noise, does make it suitable indoor equipment if you want to enjoy music or TV.
Also Read: Exerpeutic 1000 Recumbent Bike
400 lb Capacity Bike Buying Guide
Patently you must have made up your mind to get your hands on an upright folding bike to improve your fitness. But not buying a cheap one or an expensive bike is not the solution.
Basically, there are a number of factors to consider before pouring your money into the best foldable exercise bike.
Aim: When purchasing the best folding exercise bike in 2022 you should assess your goal and sort out the reasons for buying.
How many will be riding a bike, the intensity of usage, the purpose of using either you intend to lose weight or improve your muscles.
Excessive Noise: Well this feature may not bother some users but based on the resistance system some bikes produce less noise than others.
The rotation of pedals using high torque have a tendency for a noise-free system.
Adjustable Seat: Upright bikes burn calories in a slow way that's why you will be spending more time sitting on them.
It is important to have an adjustable and well-padded large seat for a comfortable workout session.
Space and Foldable Bike: Bikes are available in a variety of shapes and sizes, you may find large size bikes with foldable options.
If you are short of space must go for a foldable bike that can be stored under your bed or supported with the wall when not in use.
Resistance: If you are looking to progress your fitness then you must consider the challenging resistance levels a bike has to offer.
Both types of friction or magnetic resistance can cause extreme levels of fitness tests.
Console: A meter tracking system or console is designed to monitor workout routines and is attached to almost every best upright bike for small spaces.
The display needs to update you regarding basic stats of time, distance, speed, level of resistance, and calories you've burned.
Construction and Design: Within the top consideration factors the design and durability lie on top. The folding bike should be reliable in safety and comfort aspects for a longer life span.
Ensure the bike is constructed with high-quality material such as steel and the design looks good in an aesthetic aspect.
High-Quality Build: You don't want to fall for a cheaper bike with weight limitations. A firmed high-quality build bike offers a large range of weight capacity.
You should make sure that the bikes you choose do not need to be topped up during the exercise.
The Good
1-year frame warranty
Large pedals with straps
Magnetic brake pad
Heavy-duty V-belt system
Multi-grip handlebar with pulse sensors
Quiet magnetic resistance system
The Bad
Not supportive for less than 5'2'' users
Pulse tracking is not extremely accurate
Handlebars are not adjustable


Some Last Words
Upright bikes are a very useful fitness tool, both in gyms and at home. Exerpeutic gold 525xlr folding recumbent exercise bike provides a great level of fitness and cardio workout with the feeling of riding a normal bike with an indoor experience.
It's a simple bike with all the vital features of resistance, meter display, durable high-quality frame, leather cushion seat, and smooth portable design.
If you really want to invest your money for great value, comfort, and active healthy life. I guarantee you acquiring the exercise bike's 400 lb weight capacity won't disappoint you ever.
Recommended Reading
Best Bike for Overweight Person
Best Exercise Bike for Elderly
About Author
Chris Herry has a Master's Degree in Sports Science and has worked for fitness brands. He is a regular writer for websites and magazines. Discover his opinions and experiences in all objectivity with regard to fitness equipment, especially about a recumbent bike.