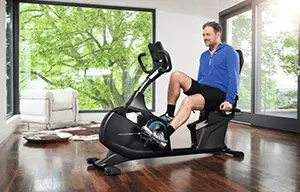 If you are looking for a high-end recumbent bike that is best in appearance and performance both, then look no further.
We have got you one of the most eligible bikes in this regard, which is none other than the Schwinn 270 recumbent bike.
In addition to the perfect construction and the outward form of this bike, you would be getting the advantage of having a compact machine that does not take up much of your space. So that's might compel you to consider this stationary bike.
With that being said, the ease of paddling is ensured by the smart and intelligent design of this recumbent bike. As you'll see that the upper closure on both the paddles allows you to place your feet quite easily.
So you better not miss this opportunity and grab this masterpiece as soon as possible. If you have any other concerns regarding this bike, then keep on reading the Schwinn 270
Recumbent Bike Review all through the end and you'll get all the necessary information.
That said, let's get down to it:
Schwinn 270 Recumbent Bike
Buying Guide
At times it gets hard to make that final decision while buying a recumbent bike, and that happens mostly because you have no idea what features to consider the most. So don't worry about that anymore, as we've got you covered in this regard.
The Tracking System
Recumbent bikes, most of the time, feature a tracking system that monitors and keeps a record of your time spent on the machine; along with the distance and calories goal tracking. That really boosts your experience.
Ergonomic Grip
The next important thing that matters a lot in this regard is the ergonomic grip of the handle, which provides you a relaxed riding position while using heart rate mode.
Padded Seat Bottom
Last but definitely not least, the padded seat bottom of the recumbent bike is a must as it allows you to maintain a straightened and active posture.
Key Benefits of Schwinn 230 Bike
Now having said that, it's time to discuss some of the major benefits of the Schwinn 270 recumbent bike, in a bit of detail. So here we go:
13 Display Feedbacks
First and foremost, the most highlighting thing about this brand new model of the recumbent bike by Schwinn is that it features 13 different types of display feedback systems. And all of this can happen only with the virtue of dual-track two LCD window systems.
Now you can make the most out of your recumbent exercise by continuously tracking your activity and making sure you improve.
25 Levels of Resistance
In addition to all of the amazing perks of this Schwinn recumbent bike, the 25 different levels of resistance allow you maximum control over the exercise machine.
You can shift from different modes to the most suitable one for your workout session, as it brings you an easy-to-use system of settings. Besides, every single workout session on this recumbent bike feels so smooth and noiseless, because of its massive resistance.
User-friendly Settings
Apart from everything else, you get the advantage of extremely convenient and user-friendly settings. For instance, you get to have the benefit of 29 different programs, with 4 different user settings, which are the ultimate source of user-friendly settings.
USB Port
Schwinn 270 recumbent bike features a USB port on the front panel of the bike. It is to ensure maximum convenience while you are exercising on the recumbent.
You cannot only play your favorite tracks or else watch your favorite show on the LCD. Adding to this, the charging and data exchange option is an additional perk in this exercise bike.
Key Considerations for Bike
Placement
No matter how compact and small in size, it might be, you still have to be very cautious about the placement of the machine. Because once it has been placed, then there is nearly no chance of moving it again and again. It weighs too much.
Budget
Although recumbent bikes cost you a lot of money, still you have to make decisions according to your pocket-range. So keep a check on that aspect as well.
Tips to Use Schwinn 270 Bike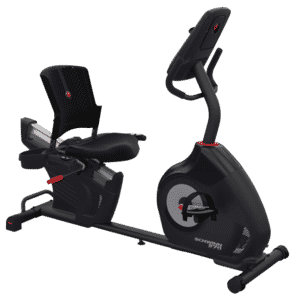 Now after you have all the information regarding the Schwinn 270 recumbent bike, now it is time to have a snapshot recap regarding the use of this recumbent exercise bike. This will let you aware of some hacks even before you get down to business.
So make sure to check these out, as follows:
Make sure that you carry a water bottle with you as this bike features an ergonomic bottle holder at the side of its front panel.
Next, you better start off at a low pace, as it has got high levels of resistance that is quite booming in overall usage.
Apart from this, make sure to select an appropriate place for placing it as it may seem compact, but has a lot of weight.
Lastly, it is better for you to do a warm-up exercise before getting on this because that will help you measure your heart rate very easily.
Expert Opinion
We all know how much of a famous and popular brand is Schwinn. And in a similar perspective, the Schwinn 270 recumbent bike has gained all the praise and applaud since its arrival on the market. So here what experts have to say about the perfection of this bike:
This bike takes less space than many of its rivals.
The high-quality features justify its price tag.
It offers a perfectly smooth and noiseless operation.
The Good
Comfortable seating
Compact machine size
Smooth pedaling
Ventilated seatback
Four user profiles
Heart rate monitor
The Bad
Light flywheel
No manual included for the Console


Some Last Words
That would be all from my side regarding the new Schwinn 270 recumbent bike Review. We've tried to cover up the major features of this exercise bike that are essential in its overall usage. Besides, the detailed buyer's guide is to ensure that you are going to make the rightest choice.
So I hope you found this article helpful. Now get out there and bring this amazing piece of equipment at home, to get started with the adventure!
Recommended Reading
If you are suffering from knee pain or got knee surgery, the above recumbent bikes are best for exercise.
Check out the top recumbent exercise bike that you can buy for under $500. These bikes are equipped with all the best features.
About Author
Chris Herry has a Master's Degree in Sports Science and has worked for fitness brands. He is a regular writer for websites and magazines. Discover his opinions and experiences in all objectivity with regard to fitness equipment, especially about a recumbent bike.