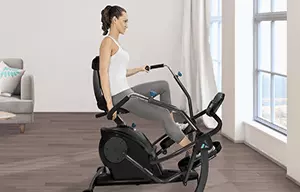 There can be many reasons to purchase fitness equipment but if you are short of space and want to replace your few gym equipment with a single one then Bike Elliptical Combo is your best choice.
You can train and shape your body, build muscles, lose weight and perform a low-impact exercise all at once. The Elliptical Bike Combo is available in numerous shapes and designs to solve all of your cardiovascular health issues.
Not to mention it is a great relief for the elders and youngers with illness, surgery, or lower back pain. The machine lets you exercise both your arms and legs at the same time while sitting in a comfortable chair. The leg movements are similar to walk and you won't have to bend forward to grip the long-moving arms.
Best Recumbent Bike and Elliptical Combo 2021
Before you get confused about what brand or model you should get, we have prepared a detailed article for your assistance. We have reviewed the top 5 best Recumbent Bike & Elliptical Combo suitable for every user as per their health requirements and physical goals.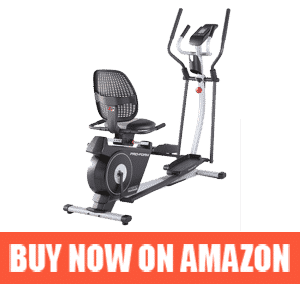 Have you ever been looking for versatile gear to uphold a comfortable workout plan? If yes! Then keep reading because we have brought you one of the best recumbent bikes manufactured by Proform Hybrid to let you ensure a smooth and flexible workout anywhere at any time!
The brand has been introducing its fitness products for years now with the expertise and consultation of fitness trainers.
The best elliptical bike combo is known for its marvelous features and the numerous benefits that you can achieve with cycling and elliptical training sessions.
Things We Loved
Get yourself ready to explore the astounding benefits of Proform Hybrid!
A Gym Equipment for every Size: Size is no worry when it comes to Proform elliptical bike! The solid steel construction made it all possible for the unit to uphold 350 lbs weight easily.
This means that no matter what the size is this can be your perfect gear to step into a healthy workout routine.
Balancing Support: Your comfort is the Proform's top priority! Balancing is the most important thing when it comes to engaging your upper and lower body in motion.
Check out the oversized adjustable pedals to comfort your feet in both standing and sitting positions.
2 in 1 Workout Machine: The trainer has replaced your two-exercise machine with just one, which means more space availability in your indoor gym for stretching your muscles.
You can choose between a recumbent bike or an elliptical trainer as per your training schedule. Anyone with a tall height can be benefited from the seat adjustment settings.
Improve your Fitness and Muscle Strength: You can only be using the machine to its full potential if you elevate your fitness graph and boost body strength.
Along with the low impact cardio, the 16 levels of magnetic resistance function is the essence of the elliptical cycle for your fitness improvement.
Don't Get Bored: Well divert your attention from the body pain or muscles tearing with some soft music through dual speakers parallel to your eyes on LCD.
The silent performance of mechanical parts can't interrupt you at any point and be well informed about your pulse rate and performance stats through the digital console.
Modern Machine with High-Tech Performance: Get all the virtual training from live and studio videos through the iFit app, the Global workout experience is free of cost for 30 days as a trial membership. Watch and get a personalized workout every time.
The Good
Inertia-Enhanced Flywheel ensures the smooth and silent ride
Multiple users of different heights can use it
Comfortable padded seat for back pain patients
A 5-year frame warranty
Great equipment for physiotherapy
The Bad
Bluetooth connectivity may often cause a problem
Assembly may be complicated for few people
3 months warranty period for mechanical parts
Expert's Note
It's a solid 2 in 1 elliptical and
bike for your fitness and weight loss goals
. The silent magnetic resistance and comfortable sitting push you to exert more while you enjoy your favorite music on inbuilt speakers. Proform Hybrid Trainer is overall the best combo bike for full-body and low-impact exercise use.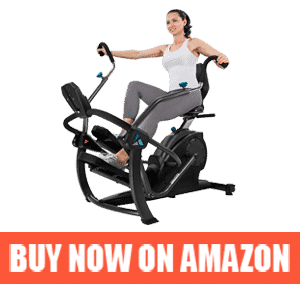 With all the fitness and transitioning equipment out there, you don't want to miss out on the LT1 Model of Teeter FreeStep Recumbent Cross Trainer.
The immaculate elliptical exercise bike is the one and only home fitness machine with commercial physical therapy technology. It means you are one step away from the stress-free zero-impact cardio workout.
The seated elliptical bike synchronizes your upper and lower body motion to burn more calories at your home gym.
Things We Loved
Let's look at the unlimited perks and features the bike has to offer:
Let's Exercise with Comfort: Don't start making excuses to avoid the exercise, that is not even a problem now. Just hop on to the bike, sit in a comfortably designed chair, move your hands and legs for a smooth and comfortable ride.
It is hard to believe but with such comfort and simple exercise the best recumbent bike can burn 17.4% more calories per hour than the usual machines.
The Perfectly Designed Machine: Who does not love beautifully designed equipment that can add beauty to the home gym. The aesthetically designed machine has a comfortable large cushioned seat for a naturally-reclined position.
The backrest will take care of your back pain while the seat adjustments can get a perfect position for your 6'6'' tall friends.
Forget about keeping your cell phone and bottle on the floor, the LT1 model is designed with little pockets to hold them for you within arm's reach. Isn't it nice!
Track Your Exercise: Nothing too fancy but the simple yet efficient digital screen tells you the performance stats in large digital numbers, get motivated and raise those numbers with your hard work.
Zero Impact Exercise Machine: The first impression of recumbent elliptical says it all, with the linear pedal motion and comfortable sitting position it's for sure your knees are safe.
The exercise has zero impact on your lower joints so spend more time with higher intensity.
Move it Whenever you Want it: Why stick in one room when you can just move it in front of the tv or outside with the help of fixed transporter wheels at the base.
The Silent Operation: The whisper-quiet technology makes it one of the silent cardio machines, thus you won't be interrupted or irritated by the movements of mechanical parts.
The silent treatment is an addition to your comfort and relaxation.
The Good
Compact size suitable for small places
Magnetic resistance function
Capacity to hold up to 300 lbs users
Impact on knees is near to zero
The Bad
Does not have any pre-set exercise programs
The warranty period could have been better
Expert's Note
If you want to burn more calories and feel easier at the same time get your hands on the LT1. The numerous options of customization in the seat, resistance level, and handle position make it easy to target your desired muscles with natural step stimulation. It is an easy and smart way to get a total body workout. No doubt the Recumbent Elliptical is a great value for money!


Ever wondered why recumbent elliptical trainers are so popular and why do you find these hybrid machines everywhere nowadays.
If you don't know the answer, no problem, because you are about to find out.
The Octane Fitness xR4x has made it to our top 3 with its loaded features to benefit your physical fitness, rehab, and therapy.
Octane Fitness has a great line of producing vertical and conventional ellipticals yet it has produced a remarkable hybrid of the recumbent bike and elliptical trainers.
Things We Loved
Let's look at this recumbent bike combo in detail.
A Reliable Fitness Equipment: Octane fitness has built you something that is reliable and effective for a very long time.
With the solid construction of steel tubing, it is evident to say it can take the load of gym and fitness club members.
Any user up to 300lbs can burn calories without the slightest feeling of machine wobbling.
Smooth Ride of Flywheel: You may not know that but the weighted flywheel ensures the smooth and steady motion of pedals.
While the pedals have a soft grip surface for comfort and balance just raise the resistance level to build your strength or carry rehab therapy.
Be Updated: The captivating large display is the brain of the fitness machine, the meters are accurate including pulse rate sensors and you can control all the systematic functions with press buttons.
The option of choosing a pre-programmed workout with intervals is quite fascinating.
No Compromise on Comfort: No doubt, the comfort level is up to the standard. The brand has taken good care of the soft padded seat and large backrest and the adjustment settings are way more than expected.
You can easily get the ideal sitting posture for your back and knees.
Multiple Handlebars: It is really surprising how the manufacturers have installed 3 handlebars for a single sitting posture fitness machine.
Well, the purpose of handlebars is interesting, to monitor your pulse and relax the upper body side handles are really useful. Whereas you can choose between the other two handles as per your targeted muscles and posture.
The Good
Easy to climb for people with disability and mobility issues.
Pedaling and operation of a flywheel are very quiet.
Multiple handlebars for easy grip and muscle contracts
Safety locking feature for console and pedal movement
The Bad
It lacks an online connectivity feature
Lacks cooling fan
No sound system is installed
Expert's Note
For those who are looking for a 2 in-1 elliptical cross Trainer exercise bike, you cannot get anything better than this. The xR4x Elliptical Trainer lets you experience the best cardiovascular workout of the upper and lower body in one motion with smooth strides. Nevertheless, it is probably the best multi-gym equipment you can get in this price tag.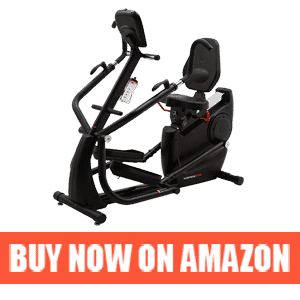 The fact that a well-priced, comfortable and effective cardio machine is not easy to find.
What if I tell you that you can have a low-impact total-body cardio workout in a recumbent sitting position with elliptical moving handles, Yes! It is possible with Inspire Fitness 3 (CS3) Cardio Strider.
The highly effective bike combo is the production of Inspire Fitness. An excellent machine for fitness lovers and people with low mobility.
Things We Loved
Let us read some of the astonishing features offered by CS3 Cardio Strider:
Move Your body: Much like the combination of recumbent bike and elliptical trainer the exercise combines the movement of the upper and lower body while seated.
The engagement of maximum muscles when seated results in more calories burn and the low impact helps to extend the workout duration.
Adjust Accordingly: The multi-user recumbent elliptical has taken care of your search for a perfect sitting posture with an adjustable seat and backrest.
The large padded seat has a low frame height for users to climb on and off with ease.
Customize You Exercise: Apart from the stationary handles if you look at the long moving handlebars, they have multiple grips and length adjustment options.
The features allow you to focus your specific muscles as you want and work out on them. The grips can be closed to the chest, or low or close to your waist for ultimate strength building.
Who Can Ride: Any fitness enthusiast or determined person up to 300 lbs weight can be benefitted and be trained without risking any injury.
Linear Motion of Pedals: What more you could have asked from the amazing combo bike, the linear pedal motion has a very low impact on your knees and joints.
If you need therapy workouts or transition from therapy to home exercise try the different levels of resistance without any fear.
The 10 pre-set workout programs can also be helpful for interval and intense training sessions.
Analyze the Performance: Evaluate your work performance through the large LCD showing you the updated information of the time, speed, distance, pulse rate, and resistance level.
The Good
A polar T31 heart rate strap monitor and built-in pulse sensors
Multiple grips on handlebars for muscle target
5 year mechanical parts and 1 year labor warranty
Integrated storage for water bottle and smart device
The Bad
It takes 3 hours to assemble
Seats are little uncomfortable
Expert's Note
Nonetheless, it is the best recumbent bike and elliptical combo with several workout programs and advanced features. The 2-in-1 elliptical combo looks after the people for physical therapy at home and those who are trying to build muscle strength in the comfortable and best possible way.


5. Body Champ: Trio Trainer, Elliptical and Upright Recumbent Bike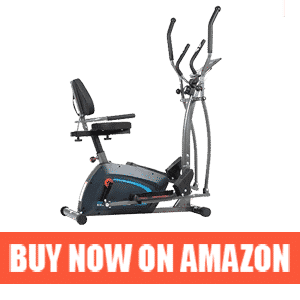 Our last pick comes from Body Champ, the BRT1875 model is the trio trainer we all need. The fitness brand has combined 3 types of cardio machines into one.
The designers have really catered for all the minor details for its users to save you gym space and money.
Things We Loved
Let's discuss the amazing 3 in 1 elliptical trainer with its excellent outcomes:
3 in 1 Machine: Save your space, save your money and most important save your time. The 3-way fitness machine gives you a recumbent bike, an upright bike, and an elliptical trainer and on top of that, the transition from one exercise to another is seamless.
Yes, no effort no adjustments no dismounting nothing.
Read Your Performance: Read what you are doing, how much you have burned, or how long you have covered, the digital console keeps you updated.
Well, the console has a space for your tablet and smartphone so you can enjoy some music or watch your favorite shows while accelerating for body strength.
Be Your Personal Trainer: If you are ready to sweat away and committed to your body, believe me, you got the perfect partner. The newbies are welcome to start with the pre-set training programs and build their muscle strength gradually.
Let your body experience the gym-like feeling with the 24 pre-programmed workout options.
Choose Your Handlebar: Don't be confused with the multiple sets of handlebars, the handles provide balance for recumbent and stationary bikes.
Whereas the long-moving handlebars build strength in your upper body muscles during elliptical exercise.
Multiple Pedals: Yes! you read it right, the multiple pedals. The modern hybrid has 2 sets of pedals for elliptical and bike exercises, get the optimum comfort and balance for an efficient cardio session.
Perfect Home Gym: The 3-way functioning fitness machine can challenge your physical strength with 8 levels of resistance with a quiet magnetic fly system.
Therefore the smooth ride is going to burn your calories without any strain or pressure on your joints.
The Good
Weight capacity is up to 250 pounds
The stabilizers provide balance and prevent wobbling
The seat and backrest can be adjusted in 2 ways
Easy to use controllers on LCD
The Bad
The heart rate monitor is only activated in upright bike function
Assembly requires time especially the tension wires & handles
Expert's Note
The Body Champ 3-in-1 Exercise machine is a very practical, functional and versatile fitness equipment to target your different body muscles in 3 different positions. You can involve your upper and lower body in several challenges with a combination of trio-trainer exercises or you can use it on alternative days to relax your muscles.


Recumbent Elliptical Trainer Buying Guide
The Rec Bike Elliptical combo is a simply designed machine built to fade away from your fat with a full-body workout. Everyone wants to lose weight or gain some fitness goal from the comfort of home in their own timing and investing in a Recumbent Bike Elliptical combo is definitely the best decision you won't regret.
Before you rush to the nearest market or visit a virtual store on the internet just go through the guides, we have listed for you.
Resistance Level
It is an important feature to look at in an Elliptical Bike Combo, the higher number of resistance levels can help you to choose the difficulty level that perfectly matches you. It won't be productive if the equipment can't push you to struggle.
Max Weight
The weight capacity of the machine limits your decision to choose it or not, your model should be able to carry your weight without wobbling during the exercise session.
Accessories
If you are investing a large amount of money, you must look for the bonus features like a pulse monitor, holders for a water bottle and smart devices, a high-tech console with inbuilt speakers, and ergonomic handles.
Warranty
The product is mostly manufactured by top brands but you never know when it starts to malfunction. Check for the warranty period on the different parts of a machine and how helpful the customer service is.
Budget
Well, a combo machine can't be a cheap product; you may have to consider the budget issues before your final verdict. Well, I must say it does replace two to three gym equipment combined.
Adjustable Features
This can be mentioned as the basic features as well, the adjustment settings in the seat, pedals and moving arms make you comfortable in standing and sitting positions.
Designs
The Elliptical Bike combo is available in three designs; front-drive, center drive, and rear drive. The titles are given on the placement of the wheel, all designs have some particular characteristics and the choice depends upon the person.
Accessories
If you are investing a large amount of money, you must look for the bonus features like a pulse monitor, holders for water bottles and smart devices, a high-tech console with inbuilt speakers, and ergonomic handles.
Warranty
The product is mostly manufactured by top brands but you never know when it starts to malfunction. Check for the warranty period on the different parts of a machine and how helpful the customer service is.
Budget
Well, a combo machine can't be a cheap product; you may have to consider the budget issues before your final verdict. Well, I must say it does replace two to three gym equipment combined.
Some Last Words
Recumbent Elliptical combo trainers are best in every way, it's a great idea to replace multiple fitness equipment with just one. They work very well for upper and lower body workout programs, you get to engage all your muscles while sitting in a reclined posture without impacting your knees or joints.
Titling one as the ultimate best elliptical bike combo is difficult when there are hundreds of options available in the world with amazing features and in a wide price range.
The 5 models we have discussed fall into a mid-price range and most to offer. These will help you to burn calories, reduce weight or get therapy for your injuries at home with super ease and comfort.
FAQ
Q1: Is a stationary bike better than an elliptical recumbent bike combo?
Both stationary bikes and elliptical combo are indoor cardio workout machines. In comparison, the stationary bike demands your whole-body involvement in an upright posture whereas the 2-in-1 exercise bike provides you an active workout session without impacting your knees or joints.
Q2: Which Elliptical bike combo machine is better for home usage?
There are tons of combo bikes and ellipticals are available in the market and many of them are of top-notch quality with remarkable features and user-friendly designs.
But every product has its own edge and drawbacks. Your selection will depend upon more than space, compact design, and budget factors to entitle a machine as the best cross trainer for home-usage.
Q3: Can I lose weight with a combo machine?
The basic and foremost most rule of losing weight is to burn more calories than you are consuming. You can lose weight easily while sitting on the recumbent seat as long as you are challenging your body with the increase in resistance levels and exercise duration.
Q4: Which is better for the knees? An elliptical trainer or recumbent bike?
The recumbent bike and elliptical trainer have a very low impact on your knees as long as you are pedaling in the right posture. The elliptical gives you the simulation of walking along with the total body workout and the recumbent bike helps you in acquiring the cycling experience in a comfortable seat.
Both exercises have no risk of knee injury or strain on joints making them perfect for rehab therapy or knee patients.
Q5: Is a treadmill more effective than an elliptical bike combo?
Elliptical bikes are low-impact exercise machines that you can use continuously without boosting your heart rate. The well-designed machines keep your upper and lower body fit at the same time with moving handlebars and strides.
The treadmill is dynamic exercise equipment giving you a run and walks option and an intensive workout may end in a harmful injury if you are not careful.