After months of searching for the perfect bike for people of all fitness levels, that can help reach the fitness goals. We finally found it! The Fitness Reality X-Class 450SL Recumbent Exercise Bike has everything that a person could want in their home gym.
The bike is an excellent, sturdy piece of equipment. We observed that it doesn't wobble at all during our tests, which makes this piece one tough competitor in today's market!
We were able to achieve some great results with this model during our tests and it never gave us any problems!
Fitness Reality X-Class 450SL Recumbent Exercise Bike Review
In this review, we will discuss the features of this bicycle and how it can benefit you.
Body Material
The Reality X is equipped with a heavy duty steel frame that's designed to be strong and durable. The ovalized, cylindrical & rectangular tubes combined with several ABS covers for extra protection make this an excellent bike.
It features two large, adjustable levelers that rest on rubberized pads. So you don't have any worries about your workout area becoming uneven or unstable due to the motions of movement during use!
The innovative step-in design makes getting started easy peasy while ensuring that there are no pesky cords snagging away at unwanted moments during workouts
The build of the bike comes without any major flaws or drawbacks other than one plastic attachment point which we believe will be problematic over time due to its low durability – but this does nothing against how awesomely designed all aspects!
Resistance System
The X-Class 450SL exercise bike is equipped with a motorized magnetic resistance system. This means it requires an external power source, but don't let that discourage you!
The console can auto adjust the levels of difficulty depending on what program you are using so there will be enough challenging workouts for any level cyclist out there.
The Fitness Reality Bluetooth recumbent bike has 24 levels of resistance that are perfect for different types and levels of workouts. The first few provide a light pedaling difficulty, great if you're just starting out or need to recover from more intense cardio sessions!
Alternatively, users can choose to train on higher resistances up to 24 different programs.
See All Our Recumbent Cross Trainers for Home Use
Display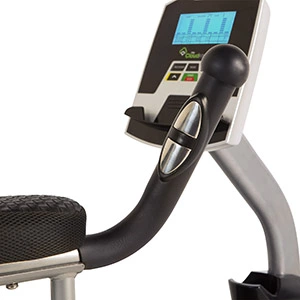 X-Class 450SL recumbent bike's mid-range console features a multi-window LCD display with LED backlight that tracks distance, total miles were ridden per day. Giving you a complete picture of how hard and far you have trained.
The built-in tablet/Smartphone holder can be used for monitoring calories burned, distance traveled, and more! This exercise bike comes with a recovery feature that helps you gauge how much energy you have left after an intense session.
There's no better way of knowing when it's time to take some much-needed rest or go back to more workouts.
The downside? A tablet placed on the holder will partially cover your console display when exercising, so be sure not to block any important information!
Workout Program
Fitness Reality has come up with an excellent workout routine for you! You can choose from 24 preset programs that provide plenty of variation and challenge your body in new ways.
Including weight loss and heart rate intervals! This makes it easy when you want some variety in your training sessions – there's something here just about every individual needs.
This bike comes with three computer settings that allow you to set distance, time and calories burned. So you can keep your body in top shape without feeling like you're working too hard.
App Connectivity
The best way to work out on the bike is with an app! This sleek and stylish machine not only offers a full range of workout options but also connects with your mobile devices via Bluetooth.
MyCloudFitness app is available on both Android and iOS which lets you track your workouts with ease.
The bike app lets you track your progress and set up customized workouts. Bluetooth recumbent bike provides all of the information that you need, including setting up your workout routine and tracking the history of workouts done on it!
Pedals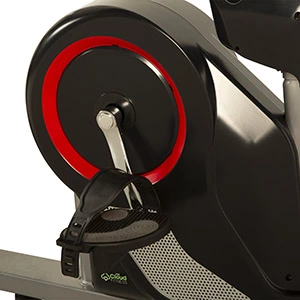 Fitness Reality X Class has a balanced flywheel, which provides smooth pedaling motions with no jerks or jolts; you can even reverse pedal if desired!
However, coasting on this bike is not possible due to its balanced flywheel design which keeps it going as long and strong spinning will allow – especially when using lower levels of resistance!
Seat and Handles
It's comfortable and stylish with large padded seats to maximize safety during use. As well as adjustable arm rests so you can find an optimal position without strain on any area.
The seat is big enough to accommodate anyone no matter what size they may be. The seat is extremely comfortable, I never thought exercise bikes could be so soft!
Hence, this machine is ideal whether your primary concern is weight loss or cardio fitness training.
Not only does this model have some of the best build quality I've seen out there. I especially like the mesh backrest, as it makes it easier to breathe. That's especially useful if you plan to do extended workouts.
The exercise bike is a unique and innovative design that doesn't have handlebars attached to the front of it like most bikes. In contrast, the ones attached to the seat assembly resemble the armrests of an armchair.
Noise
The Bluetooth exercise bike is one of the most silent bikes I've ever ridden. It operates smoothly without any hiccups or disruptions to my workout routine. This makes for a pleasant ride that leaves me feeling refreshed afterward.
The Good
Comfortable to ride
Easy assembly
Hand Grips Pulse sensors
Adjustable seat
Adjustable straps
Transport wheels
Telemetric console
The Bad
No front handlebars
Moving the seat up and down is not smooth
No chest strap is included with HR
Some Last Words
The Fitness Reality X-Class 450SL is a great choice for people looking for a comfortable and affordable exercise bike.
This bike has an impressive number of features, including 24 levels of magnetic resistance, a backlit LCD display with 24 preset workout programs, and hand pulse sensors. 
It's also one of the most affordable bikes on the market today. If you're looking for a quality recumbent bike that won't break the bank, the Fitness Reality X-Class 450SL is a good option to consider.


About Author
Chris Herry has a Master's Degree in Sports Science and has worked for fitness brands. He is a regular writer for websites and magazines. Discover his opinions and experiences in all objectivity with regard to fitness equipment, especially about a recumbent bike.