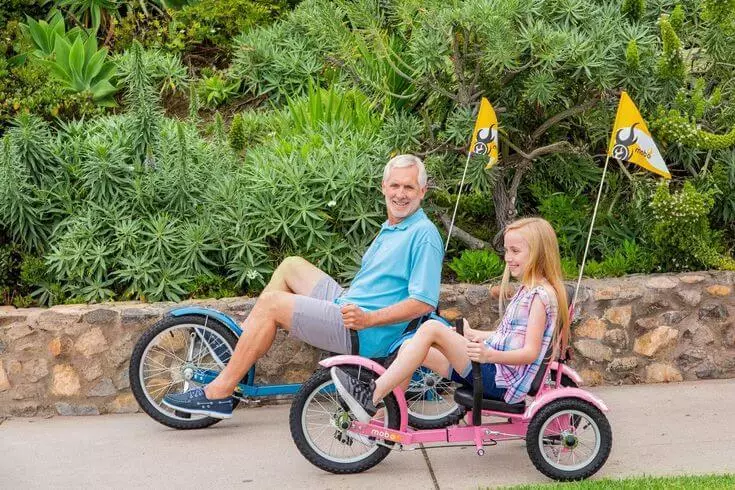 This is our review of Mobo Triton Pedal Go Kart Trike.
I invested in the Mobo Triton Go-Kart to bring excitement and fun for endless hours for my kids. Lack of Outdoor activities in the era of smartphones and video games is the major concern of today's parents.
Let's talk about Mobo Triton Pedal Go Kart Trike in-depth on the basis of my personal experience to guide you if this is the best recumbent trike for kids to travel around the town.
The Mobo Triton Pedal Go Kart is a classic three-wheeled cruiser for kids. The sleek and advanced rear-wheel steering design stands out in the world.
This Mobo Triton Pedal Go Kart review will analyze the design, technical features, and specifications to value your money.
Let's jump into the topic and start exploring it.
Mobo Triton Pedal Go Kart Trike Overview
The ground-breaking design, sturdy steel frame construction, and ergonomic approach make the Mobo Triton trike kart a big hit in the sport cycling market.
The tricycle go kart has a dual joystick steering for the smooth movement of hands. It is a fun and easy-to-use bike with a secure reclined seat. The low-to-ground design makes it a stable bike for kids of age 7 to 12 years old.
Thanks to this trike that drives the mind of my kids towards healthy and recreational activities. They adore while cruising on paved paths and terrain sloping
Besides biking, it helps my kids to maintain body fitness. A great option for kids to avail themselves of low-impact exercise.
Stable Recumbent Trike for Kids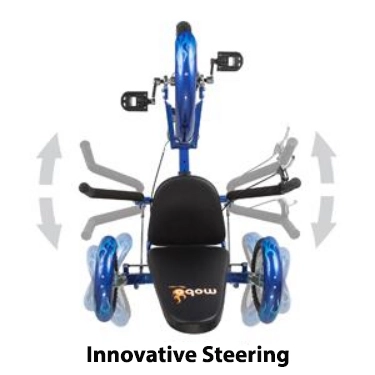 The Mobo Triton Pedal Go Kart is designed for kids of age 7 to 12. Therefore, the manufacturer gives special attention to its design in terms of stability. This 3 wheeler for kids is extremely secure due to its low to ground design.
My kids cruise on this  Youth Cruiser Tricycle safely throughout the day. They don't require any sort of balancing as that of other conventional bikes. The recumbent bike is equipped with dual joystick steering to control the trike with simple hand movements.
This is an easy-to-ride Go Kart Trike for kids.  Enjoy the outdoors with smooth maneuverability over the terrain lands and paved surfaces. 
Exercise Trike
This tricycle helps my kids to become physically fit with a little exercise. On the basis of my kid's experience, I can say that this machine will definitely shape your bodyline including thigh, muscles, hamstrings, legs, buttocks, and calves.
A regular ride for a long time will burn your calories ultimately weight loss. In addition to this, it is a risk-free exercise machine that can withstand the weight and pressure of the body.
Adjustable & Durable Frame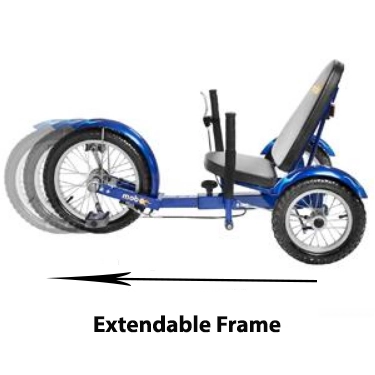 Mobo Pedal Go-Kart has an extendable frame with 8 slots. You can easily accommodate the tricycle according to the height of your kid ranging from 3' 8 inches to 5'2 inches height. The weight limit is upto 200lbs. Compatible with almost any kid.
One kid of mine is 7 years old while the second one is 9 years old. They both can use it easily turn-by-turn by adjusting the frame according to their heights. However, I am planning to buy a separate one for my elder kid as well.
When it comes to durability, it will take years to last due to its sturdy steel frame construction. The entire structure is made up of heavy-duty Hi-ten steel. The chainless low-maintenance design is exceptional to avail it without any defect or repairs.
Ergonomic Recumbent Bicycle
The Mobo recumbent kids bike features an ergonomic seat with cushioned back support. According to the customer's feedback reports, this trike kart is more secure and comfortable as compared to the upright bicycle for boys and girls.
In addition to this, my kids always admire the comfortability, grip, and cushion of the Go-kart. They found it extremely easy to ride a trike for a long path.
Moreover, the innovative steering improves hand-eye coordination as well as leg and arm strength. The 16-inch front wheels and 12 inch rear rubber wheels are highly resistant to wear and tear. They run smoothly over the paved paths. An ultimate source of fun, and enjoyable ride over the years.


About the Brand
Mobo is a dedicated brand for easy-to-ride recumbent road bikes and trikes. The tagline of this brand is "cruise in style "which depicts its manufacturing quality and build. The mission of Mobo is to provide a wonderful experience through service, quality, and innovation. It offers Adult recumbents, Kids Trikes, Balance Bikes, Kids Bikes, 2-in-1 rockers,s and more.
Highlighted Features
Well-cushioned seat
Rear Wheel steering
Inflatable Rubber Tires
Adjustable Hi-Ten steel Frame
Single-speed trike
Low maintenance chainless design
Reflectors
Specifications
Colors Available: Blue, Red, and Silver
Rear Wheel Size: 12-inch
Front Wheel Size: 16 inch
Age Range: 7 to 12 years old
Weight limit: 200 pounds
Product Weight: 17.7 Kg
Suspension Type: Dual, Front, Rear
Frame Material: Steel
Dimensions: 26.5 x 25 x 41 inches
What Do I Like?
The adjustable frame makes it perfect for small and large kids
Improves Hand-Eye Coordination
Offers maximum stability and secure ride
Helps to keep the body fit and active
Fun and easy to ride trike Kart
What to Consider?
Require expertise to assemble the Mobo Triton Pedal Go Kart Trike
Some Last Words
This 3-wheeled recumbent road trike not only gives an outdoor activity to my kids but also improves their fitness. A great way to engage kids in healthy activities, unlike those screen time bombarding with negative rays coming out of smartphones and video games.
This mobo bike ensures its longevity from its metal-made adjustable frame, thus, a worth buying option for your kids.
So, what are you waiting for? Invest in the Mobo Trito Pedal Go Kart Trike to value your money in terms of performance, durability, and security. 


About Author
Chris Herry has a Master's Degree in Sports Science and has worked for fitness brands. He is a regular writer for websites and magazines. Discover his opinions and experiences in all objectivity with regard to fitness equipment, especially about a recumbent bike.