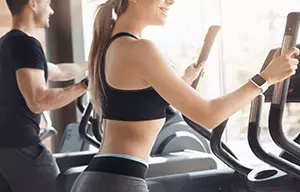 Recumbent bikes are often a much better option for exercise due to the fact they are more comfortable compared to stationary bikes or treadmills.
You can exercise in a reclined state which allows you to get entertained by watching something or reading while you work out.
We'll discuss in this article why the Recumbent Exercise Bike Hybrid is a good choice for those who want to exercise without the resulting discomfort.
Recumbent exercise bikes do not put a lot of pressure on the spine, and you are less likely to experience a strain on your muscles. They have a wider, more spacious seat that supports your back really well and prevents any discomfort.
Statistics show that in the US approximately 37.09 million aged 6 and above participated in recumbent cycling.
These bikes are also ideal for those who are just starting to work out or those who have limited movement. Furthermore, they also work well for senior individuals as they are less likely to get injured while exercising, as well as those who experience joint and back problems.
You can also get some good cardio from a recumbent bike provided that you challenge yourself enough. A study suggested that just by utilizing a bike for 8 weeks, a group of aged women were able to enhance their physical strength and mobility.
Recumbent Exercise Bike Hybrid Features
An LCD Display Window
A combination of an elliptical and a recumbent bike.
Arrives with a warranty: 5-year warranty for the frame and 90-day warranty for the parts.
Has the ability to hold up to 350 pounds.
Product Dimensions: 70.5 x 24.5 x 60.5 inches.
iFit Subscription 30-day trial
16 Resistance Levels
Why We Love Recumbent Exercise Hybrid?
The Recumbent Exercise Bike Hybrid by ProForm is a 2 in 1 trainer, i.e an elliptical and a recumbent bike. For this reason, you'll get the combined advantages of both of these machines by using this one machine.
One of the convenient features of this bike is the LCD Display that it comes with. This allows you to keep an eye on all the calories you burn, monitor distance, and keep a track of your overall fitness journey.
On this bike, you can listen to music through its dual speakers. It also comes with a built-in tablet holder so you can entertain yourself by checking your social media or watching movies while you work out to achieve your fitness goals.
You can watch countless workout and training videos to challenge yourself to new limits. This way, you'll never lose interest and will stay on top of your game.
If you are really serious about your workout, the Recumbent Exercise Bike Hybrid provides you the opportunity to watch different training and workouts right in the comfort of your own home through its 30-day iFit subscription trial.
With this bike, you can work out every part of your body without experiencing any strain on your muscles or back. This bike also comes with large pedals for comfort, which you can adjust to personalize to your liking.
Moreover, there are grip sensors on the handles of the bike to display heart rate. This feature is quite handy and makes this bike quite effective in doing cardio and getting your heart rate up. One thing to note is that since this is not medical grade, the results may not be 100% accurate.
Another huge plus is that this bike comes with a warranty of 5 years for the frame. You will be covered if your bike frame is damaged.
With all these neat features, the Recumbent Exercise Bike Hybrid is truly a versatile product. And, it does not take up too much space either.
The Recumbent Hybrid is awesome for beginners because of its low-impact workouts. But, it is also great for those who are older or have physical limitations.
There is an integrated water bottle holder so you can stay hydrated at all times. It has a comfortable, supportive seat that is well cushioned, providing ease and comfort for your back.
The bike also features wheels that make moving it a breeze to move it from one place to another.


What We Like
This bike provides double the advantage under a single price tag since it is a hybrid of an elliptical and a recumbent bike.
Has a tablet holder so that you can use it to keep yourself entertained while you get into shape.
Also, it comes at a moderate price tag.
For damage to the frame, it provides a 5-year warranty.
Complete iFit access for a 30 day trial period. You can watch videos by professionals for an effective workout. These professionals can modify your resistance automatically.
Has an LCD monitor that shows details about your workout, like the number of calories burned, etc.
The bike is pretty compact, and the frame is sturdy and robust. In addition, it has adequately large pedals.
Comes well-packaged and arrives with easy-to-understand instructions.
The transition between using the elliptical to the recumbent bikes is very easy and seamless.
What We Don't Like
It is fairly heavy, so you'll need help if you want to lift the box of this bike when it arrives.
It takes quite a bit of time to assemble it. And, assembly might require more than one person.
Users have complained of wobbling and hearing squeaking noises from the bike during use.
Some Last Words
The Recumbent Exercise Bike Hybrid provides a lot of versatility because of the option to switch from a recumbent bike to an elliptical.
For sure this bike has its weak points, but it has a lot to offer for not a very steep price point. Its multiple user-friendly qualities make it worth giving a shot. Not to mention, it is quite compact and easy to use.


About Author
Chris Herry has a Master's Degree in Sports Science and has worked for fitness brands. He is a regular writer for websites and magazines. Discover his opinions and experiences in all objectivity with regard to fitness equipment, especially about a recumbent bike.