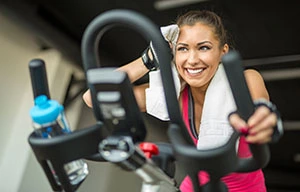 This is our review of ProForm 235 CSX Recumbent Bike.
I am a physical trainer and gym owner as well as an expert in fitness equipment. I recently bought ProForm 235 CSX Recumbent Bike for my gym. After experiencing it myself, I'm ready to tell you all about it so you can make a choice that works best for your needs.
Indoor house gym trends are on the rise, and people with strict schedules hardly find any time to spare for gyms and outdoor exercise routines.
Those who want perfect fitness equipment with no lower back or joint pain risk must consider ProForm 235 for their active lifestyle. Without any doubt, the affordable recumbent bike is easy to use at home without any supervision of a trainer.

Here we have mentioned a sophisticated recumbent bike option at a lower price with surprising features, best for beginners and for those people who want to stay a little bit active with light exercise at home.
ProForm 235 CSX Recumbent Bike Review
Based on observations, ProForm is a quality brand that has always launched affordable gym equipment with considerable warranty periods.
These products are always advanced in feature and robust in nature. The ProForm 235 CSX Recumbent bike is one of its astonishing fitness machines that work well for both commercial and indoor house gyms.
Specifications
Dimensions: 61" H x 21" W x 40" L inches
Shipping weight: 100 kg
Weight capacity: 275 lbs
Seat: Adjustable
Drive: Belt
Key Benefits of ProForm 235 CSX Recumbent Bike
Good for Weight Loss Exercise

The recumbent bike pedaling effect is closer to the traditional bike's ride except for the comfortable seating position you get through the backrest. I believe exercising on a recumbent bicycle is one of the best exercises for weight loss. The extended period of training helps to increase metabolism function, builds muscle, and burns body fat all around the body.

Gentle on Knees and Back

Another key benefit of ProForm 235 CSX Recumbent Bike is its impressive support for the lower back and comfortable design to prevent pressure on joints and knees. As compared to the treadmill workout, this exercise bike is more efficient for people with back and knee problems.

Adjustable And Comfortable Cushioned Seat

ProForm 235 CSX comes with a 2'' layered foam padded seat and backrest, the ergonomic seat is adjustable on its rail to move forward and backward. Furthermore, you can lock the seat at your desired position with a lever to have an idle sitting position during the whole workout session.

18 Level of Resistance Level for Muscle Building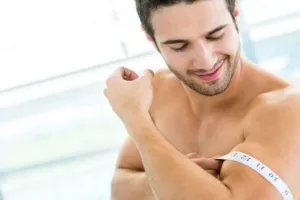 You can manually choose the resistance level to start as a beginner and follow the iFit Trainer program to auto-adjust the magnetic resistance level for an intense workout routine. Those who want to lose weight in less time, tone body muscles, or build endurance can increase the level of resistance for a practical workout challenge.

The Large Size Digital Console

The aesthetically designed bike has a large size digital console that displays all the essential information regarding time, speed, resistance level, watts, estimated calories burnt, and heart rate. These up-to-date information stats help you achieve a set fitness goal and cardiovascular improvement with time.

Entertainment with Workout

The recumbent exercise bike offers a built-in speaker and MP3 jack options to connect different audio devices and smartphones. In addition to that, the console has volume control buttons to make your exercise more interesting, even if you want to enjoy your favorite music at a high volume.

Accessible for Everyone

The Proform 235 CSX recumbent bike is a suitable choice for those who don't want to go outside or gym after their hectic office routine or who want to enjoy riding without the limitation of weather and road risk. The recumbent bike provides a healthy lifestyle and keeps users active all day if they spend at least 30 minutes daily on this bike.

Warranty Period

The brand offers a 7-year frame and 90 days parts warranty for its users. The friendly and quick response customer service adheres to your queries and sorts out the problem with the product without any delay.

No Serious Maintenance and Assembly

The company delivers the bike at my doorstep with many internal parts, including the servo motor, the flywheel, the belt, the pulley, and the crank arms already assembled and attached to the mainframe.
The robust machine does not require any special maintenance or lubrication for a few years. Just clean it from dust and check if any belt or part is loose.
The Good
Easy to assemble
Can support users up to 275 lbs
18 workout program
LCD with LED backlight
Water bottle holder
The Bad
Limited to 5'6'' height users
Batteries are not included
ProForm 235 CSX Recumbent Buying Guide
Although all the recumbent bikes are introduced with multiple supportive features and creative designs. I would like to suggest a few essential aspects you should consider before you make a final decision.
The seat and backrest should be adjustable to support your comfortable position.
The monitoring console has enough data to calculate time, distance, calories, and display pulse rate for the user.
Steel frames are likely to be more durable than any other material; therefore complete frames should be constructed of high-quality raw material to avoid any incident.
Resistance levels play their role in building muscles and enhance one's endurance level; a minimum 8 levels of magnetic resistance is a must feature for a recumbent bike.
The weight capacity is one of the deciding factors while choosing a recumbent bike; usually, the design and frame strength dictate the user's weight limit. Hence the search for a bike that accommodates multiple users' weight.
The recumbent bikes come in various price ranges; these bikes can be out of budget for their excessive advanced features and overall size. Choose one that fits your fitness requirements and falls into the budget equally.
Some Last Words
The ProForm 235 CSX is one of the affordable and user-friendly home fitness equipment with a silent magnetic resistance. I found the bike to be highly comfortable and enriched with features.
Let's set the resistance and workout length with your choice of music. The entertaining music distraction and comfortable seating encourage you to spend more time without worrying about any risk of pain.
Anyone looking for a quality piece of indoor equipment should consider it a top priority.

We have brought you the details of the exciting and beneficial features of one of the best mid-range recumbent bikes. The ProForm 235 CSX is an appropriate choice for users who want medium-intensity cardio workouts at home with less impact on joints and knees.