Last Updated on April 11, 2021 by Chris Herry
Fitness is an important part of life, but some workouts are just not suited for everyone. Therefore, what can be done to make people comfortable while doing hardcore exercises or while using gym equipment?
A recumbent bike is a solution for people like these. Today we will discuss the best recumbent bike models for everyone to choose from!
Recumbent bikes are comfortable, and they provide just the right amount of exercise that you need to stay in shape. I would also recommend this product if you suffer from back pain or joint pain.
To maintain your health, the World Health Organization recommends regular and moderate physical activity for 20 minutes a day.
10 Best Recumbent Bike to Upgrade your Fitness
1. Schwinn 270 
Best Recumbent Exercise Bike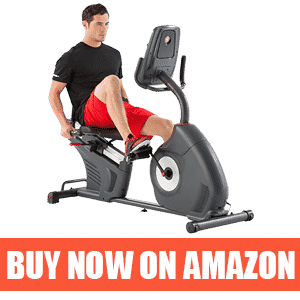 Our Editors feel that Schwinn 270 is one of the Best Recumbent Exercise Bikes due to its price and function.

For a professional workout having different fitness-centered goals, this recumbent bike will make all your dreams come true. You get many benefits when you use it.

It works for everyone, whether you are a fitness guru or a beginner. Schwinn's recumbent bike has everything that someone needs on its exercise bike.

This bike comes with a convenient USB port so that you can plug in external media in order to play it through its speakers if you wish.
Things We Loved
Let's take a look at its features:

Preset 22 Practices: For a good workout, there are 22 preset exercise plans present on the bike that you can follow. These practices are based on different levels of calorie-burning goals.

USB Port: A USB port is present so that you can charge your mobile anytime while working out.

Music Player: By connecting the mobile with Schwinn 270, you can play your favorite music while working out. This makes daily workouts joyous and easy.

Multi-User Set-Up: There is a dual user setup available on Schwinn recumbent. You can set a goal and choose practices to reach that goal. This bike will keep track of your performance.

High Inertia: The high inertia lets you have a smooth high-speed ride on the bike that plays an important role in your workout.

Pros
Multi-user setup
USB port
Music player
Preset 22 practices
Cons
Expensive
Customer support is terrible
No other major issues
Expert's Note

For the ones to whom quality matters above everything and can afford a bike under 600$, this one is a gem.

Read Complete Review Schwinn 270 Recumbent Bike


2. Marcy ME 709 
Best Exercise Bike for Back Problems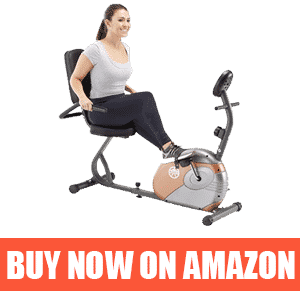 This bike sells itself with how comfortable it looks and how efficiently it works. Marcy ME-709 is the best recumbent bike model that provides several benefits to the body.

This chair is ideal for people with back issues since it has a very comfortable seat.

This bike has great features at an incredible price. The price is low and the comfort is great. As compared to another exercise bike, this model offers you high weight capacity.

The console screen of the bike is easy to read. It displays speed, time, distance, and count calories burned.
Things We Loved
Let's take a detailed look into its important features that we loved:

Adjustable Seat: For a good calorie burnout session, it is integral to have a perfect posture that keeps your body aligned and provides you the desired comfort.

Marcy ME-709 has the quality that it will let you adjust your machine according to your physique.

Adjustable Resistance: After a time, your basic workout seems to start getting boring. Luckily, with this machine, you can access 8 different resistance levels. You can upgrade your everyday game by playing with these resistance levels.

LCD Computer Display: Another important feature is having a clear LCD view from where you can know how many calories you have burnt and how much time you have spent on one exercise. The LCD screen displays:
Time
Speed
Distance
Calories
Odometer
Comfortable Pedals with Adjustable Strap: While working out on a recumbent bike, it is important to have a stern grip on the pedals.

The pedals are designed in such a manner that they provide you maximum grip over the bike. The straps will give extra protection to your feet during speedy workouts.

Transport Wheels: For transporting your bike all you need to do is tilt it and off you go. The wheels are made of high quality and give you good support.

Pros
Affordable
High weight limit
Glider wheels
Comfortable seat
Cons
No preset programs
Lack of high tension settings
Armrest might feel uncomfortable
Expert's Note
This is the best cheap recumbent bike you can buy for under 170 dollars. There is no doubt about its functionality, it works pretty well and its quality cannot be undermined.


3. Exerpeutic 300SR
Best for Small Spaces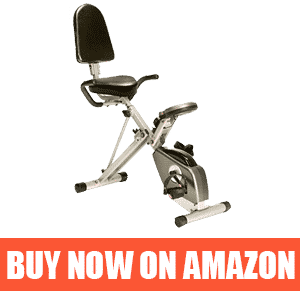 Do you have a small space at your home and looking for a compact exercise bike then Exerpeutic 300SR is for you. Moreover, this is a folding exercise bike so it is easy for you to store it.
This bike stands among the best compact recumbent bike that you can treat yourself with. It contains a compact body design and does the work for you at a reasonable price.
This foldable recumbent bike by Exerpeutic is suitable for people of all sizes and with different fitness levels.
There are quite an accurate hand pulse sensors on the handles of the recumbent bike so that you can keep an eye on your heart rate as you train.
Things We Loved
Let's delve into looking at some of the important features we loved the most:
Semi-Recumbent Design: This bike contains a semi-recumbent design which makes it easier to get on and off on this bike. The comfortable V-shaped seat makes the workout a better experience.
Foldable Bike: After doing your workout every day, you can fold this exercise bike. In this way, it takes less space and the room looks neat.
Adjustable Straps: To support your feet while working out, adjustable straps are present which will keep you more safe and comfortable during the whole workout.
LCD Screen Display: The LCD screen display will show you time, speed, calories, distance, and heartbeat rate.
Adjustable Resistance: 8 different adjustable resistance levels are present in this bike so that you can have a variety of rush during your workout.
Pros
Cheap
Foldable
LCD screen display
Semi recumbent design
Cons
No extra features
No App connectivity
Uncomfortable seat
Expert's Note
For the ones who are looking for a cheap recumbent bike, this one works pretty well for everyone.


4. Nautilus R614 
Recumbent Bike for Tall People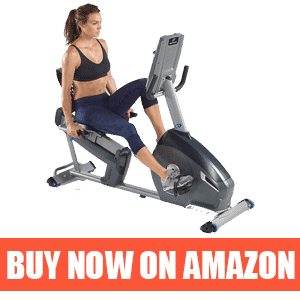 Nautilus R614 Recumbent Bike provides optimum comfort as well as low body workout, cardiovascular exercise, and blood flow. It is a great choice for both beginners and professionals.

It has the design of a chair with pedals in front of the seat. Moreover, the frame structure becomes taller when the console is moved away from the frame structure.

You will love how the Nautilus R614 redefines your everyday workouts. The bike has numerous features including goal tracking, high inertia, and multi-display LCD consoles, all of which combine to make it an impressive bike.

Things We Loved
Below are some features you'll love with this recumbent bike under $500:
User Profiles: You can set up up to 9 different user profiles on this bike. Your performance will be tracked through these profiles.
Goal Tracking: Keeping track of your goals: Each user profile enables you to set goals for yourself. A number of preset exercises are available to help you achieve that goal.
LCD Display: Dual LCD offers you detailed information regarding your workout and your performance.

Resistance Levels: You can choose from 20 levels of resistance options on the bike to reach your calorie-burning goals.
Adjustable Seat: You can slide the seat so that it fits people of different heights, which makes it convenient for everyone to use this recumbent bike.
Pros
22 Preset Practices
9 User Profiles
20 Resistance Levels
Large Console
Performance Tracking
Cons
No App Connectivity
No Bluetooth
Expert's Note
You will probably have a hard time finding another recumbent bike in this price range that is as good as the Nautilus R614 Recumbent Bike. I don't see any serious drawbacks to this one. A bunch of workouts is preprogrammed on this bike, and you can download exercise data into it so you can compare how you perform between workouts.


5. Sunny Health & Fitness SF-RB4708 
Recumbent Bike with Arms​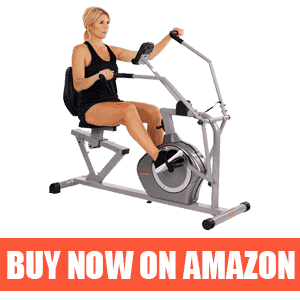 Those who want to get in shape at home will appreciate this recumbent bike. The compact body and the multipurpose nature of the bike make it an excellent choice. You should consider buying this bike if you are serious about your health.
The Sunny SF-RB4708 exercise bike is not the same as a traditional recumbent cycle. This exercise machine has two moveable handlebars, which make improving your arm and chest movements.
By moving the pedals with your arms while pedaling, you will exercise your upper and lower bodies at the same time. It has a big, completely padded seat that is very comfortable.
During your workout program, you can have a good posture since it offers plenty of support for your hips and back.
Things We Loved
Find out what makes this bike the best fitness machine.
Moveable Handle Bars: The exercise bike has moveable handlebars that provide a pretty good workout for your arms. Having this feature, you will experience a more effective workout since you will be forced to use your arm muscles a lot more intensely.

Resistance Levels: There are 8 resistance levels available for users to try. Depending on the resistance level, a workout will provide a varied intensity.

Comfortable Seat: This recumbent bike is the best in terms of comfort. A large seat is provided for extra comfort for the users, so they can concentrate on their performance during the workout.

Pulse Sensors: A pulse sensor will indicate your heartbeat rate to you on the digital monitor present.

Weight Limit: It is capable of handling 350lbs, which is quite impressive.

Pros
Multipurpose bike
High weight capacity
Pulse sensors
Adjustable seat
Cons
Arms aren't adjustable
No Bluetooth connectivity
Expert's Note
It is a quite basic recumbent fitness bike but if you are looking for a bike that serves its purpose of fitness then I'd recommend it.


6. Stamina Elite
Best Exercise Bike for Seniors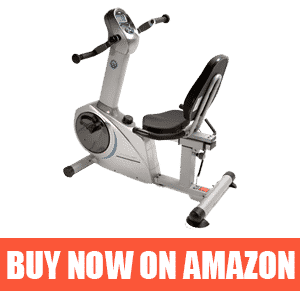 Your ride on the Stamina Elite Total Body Recumbent Bike will be more efficient and more effective. A fully-featured piece of exercise equipment, the Elite Total Body Recumbent Bike works to keep your entire body in shape.
This bike is best suited for those who wish to have a properly toned body while staying at home.
You get a fantastic upper-body workout on the Elite Total Body Recumbent Bike by turning the handlebars. This gets your arms, shoulders, back, and abs working while you pedal.
These recumbent bikes are a great choice for seniors who wish to remain active while home. This exercise bike is so easy to use, fun, and has a ton of cool features.
Things We Loved
Multipurpose Use: The bike has movable handles and can be used to gain better strength in the legs as well as the arms.
LCD Display: An LCD screen displays your workout time, length, distance, pulse, and calorie targets. During workouts, you are able to continuously monitor any of the metrics previously mentioned.

Comfortable Padded Seat: The comfortable seats play a great role in providing you with unmatchable comfort. Long workouts are thus achievable with sheer relaxation and comfort.
Safe Paddles: The paddling paddles include an adjustable safety strap. That being said, the safety strap provides added protection during extreme workouts to prevent injuries.

Resistance Levels: This machine has eight different tension levels that you can try. There will be so many resistance levels available that will determine your stamina levels and will help you figure out your ideal training plan in the future.

Pros
Takes less space
Multipurpose
LCD display
Resistance levels
Best for home
Cons
Average user manual
No preset programs
Expert's Note
Since the handlebars with the Stamina Elite Total Body rotate, this recumbent exercise bike offers quite some diversity when it comes to possible workouts. You'll find excellent ergonomics, as well as a fitness meter with goal setting options to help you track your progress.


7. 3G Cardio Elite RB 
Heavy Duty Recumbent bike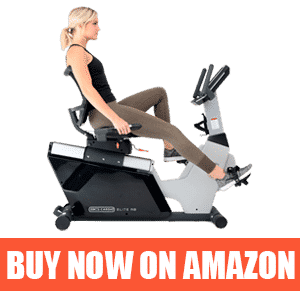 3G Cardio Elite RB works best for cardio sessions. This model features a compact body, which allows you to hang it almost anywhere in your home.
It is an exercise bike with a heavy duty recumbent design. The recumbent bike is a top-quality health club model for home residential use.
It features a simple interface with basic stats like speed, distance, calories burned, and heart rate, and it includes 12 built-in workouts. A sturdy, easy to use recumbent bike that is constructed to last for years to come.
Things We Loved
Easy to Move: Small wheels attached to the bottoms of the recumbent bikes make them portable. The device can thus be transported anywhere you like with no worries.

Preset Programs: Achieving a fantastic physique requires hard-core workout strategies. Moreover, 3G Cardio Elite RB provides 12 different workouts that can help you maintain your stamina and shape perfectly.

Adjustable Seat: You can move the seat to let it adjust to your physique. One of the main advantages of an adjustable seat is that you can remain relaxed and comfortable while working out.
Ergonomic Pedals: An ergonomic seat and paddles ensure a comfortable workout even when the difficulty is set to an intense level on the recumbent bike. Hence, you can enjoy a perfect pedaling experience for sure.

Resistance Levels: There are 16 different resistance levels from 3G Cardio which is extraordinary. As you embark on your fitness plans, the bike will surely be a challenge.
Pros
Comfortable seats
Ergonomic pedals
LCD display
Resistance levels
Preset programs
Cons
Expensive
No Bluetooth
No fitness app
Expert's Note
Although a bit expensive, 3G Cardio Elite RB is what we call the jack of all trades. Want to keep challenging yourself by setting new fitness goals? Get this recumbent bike and you'll never regret your decision for a long time.


8. Exerpeutic 900XL
Best Budget Recumbent Bike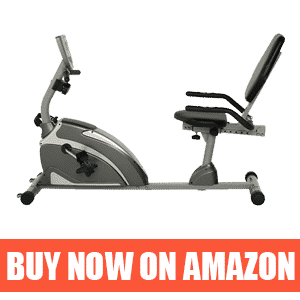 You can give your workout a boost using a budget-friendly recumbent bike. Therefore, you should purchase Exerpeutic 900XL.
Another interesting feature is that this bike is equipped with heart rate sensors on side-mounted handlebars. That's definitely not something you see very often in this price range.
This Exerpeutic 900XL Recumbent Bike can carry up to 300 pounds, making it a relatively sturdy bike.
The frame of the bike should keep you secure since it doesn't move around when you're using it.
Things We Loved
App Connectivity: You can connect your recumbent bike to the MyCloudFitness app which is available on Android and iOS. Using the app, you can try 3 types of preset workouts and keep track of your time, speed, distance, and calories burned.
Comfortable Seat: A spacious, well-padded seat is installed in this bike, making it comfortable for its users. It is possible to have an intense hour-long session without any fatigue or discomfort.
Mobile Holder: There is a mobile holder that will allow you to view your app and track your progress. This phone holder also helps you listen to your favorite songs without your phone falling.
Resistance Levels: You can easily control the resistance on the Exerpeutic 900XL Recumbent Bike by turning a knob and choosing the level you want. Experiment with the 8 resistance levels to increase the intensity of your workout.
Large LCD Screen: A large LCD screen depicts a variety of information such as calories burned, distance traveled, and speed.

Pros
Affordable
Heart rate monitoring
Easy transportation
Cons
Seat can be a bit uncomfortable
The resistance level is scarce
Expert's Note
This Exerpeutic 900XL should be perfect for those looking for a simple, sturdy and low-priced recumbent bike. Although cheap, it is not necessarily inferior in quality. It has very high standards while still being very effective.


9. Mobo Triton 3-Wheel Bike
Best Recumbent Road Bike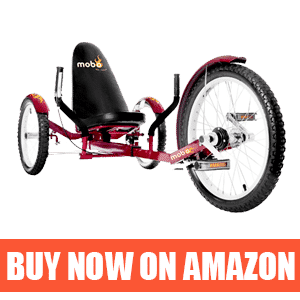 This is a tricycle bike that keeps you healthy by providing you with good cardiovascular exercises. It is one of the best recumbent bikes for adults. Especially if you have back issues or joint problems, it gives comfortable support.
The seat is cushioned to have the best comfortably it can possibly afford, and its inclination also eases away from the stress on his/her body.
The Recumbent Road Bike is a nice, relatively cheap, option for a recumbent tricycle. I would recommend this model to anyone who might have balance issues, such as a person with special needs or a senior citizen.
Things We Loved
Read about the technical features of Mobo Triton 3-Wheel Bike.
Adjustable Body: There will be no issue with your height while using this bike since it can be adjusted. You can make it comfortable according to your physique.
Weight Limit: Its weight limit is almost 250 lbs which is sufficient for the majority of people.
Comfortable Workout: With an efficiently well-padded seat, you can carry out a long intense session on this bike without any weariness.
Low Impact Exercise: The tricycle will provide you a low-impact steady workout. This will help you in saving yourself from any muscle fatigue while you are burning your calories.
Stable No Balance Issue: This bike is easy to ride on the road without any balance issues. The low center of gravity helps in providing you easy control over the bike.
Pros
Adjustable frame
Easy to use
Stable balance
Low impact workout
Cons
Unable to keep track of your performance
Not good for an intense session
Expert's Note
It is an optimum bike to use if you are an adult who is taking care of their joints and their fitness.


10. ProGear 555LXT
Best for Beginners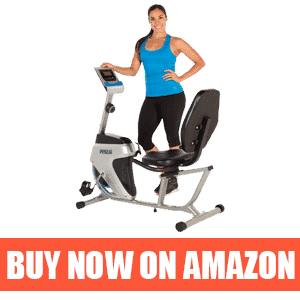 Although ProGear 555LXT is one of the more expensive entry-level models, the features it has and the quality of its build definitely reflect the high price. I believe this is a good option for all fitness levels, it is reliable, and it has a strong build too.
ProGear 555LXT is the ideal recumbent bike for beginners. This allows you to set your exercise goals to reach the exertion you want.
I find it to be one of the best fitness recumbent bikes in various ways. The ProGear 555LXT recumbent bike features a durable steel frame that supports users up to 250 pounds (113.3 kg). The frame and seat are actually very sturdy, and even users up to 250 lbs would not have any trouble using Progear 555LXT – magnetic recumbent exercise bike.
Things We Loved
There are some of the features you get with the ProGear Recumbent Bike.
Resistance Levels: The bike has 14 levels of tension resistance so that you can do a variety of calorie-burning sessions.
Preset Programs: You can achieve your fitness goal efficiently while riding the bike thanks to the 3 preset programs.
LCD Display: On the LCD display, you can see speed, distance, calories burned, and the number of rotations per minute.
Step-Through Design: It has a step-through design that allows you to easily get on and off the machine.

3 Computer Workout Settings: To offer you versatility in workouts, ProGear 555XLT comes with three preset computer workout programs. You can check your stamina, girth, and agility by trying out the workout programs offered by this recumbent bike.
Improved Weight Capacity: Last but not least, this recumbent bike offers a weight capacity of almost 250 lbs. It's more than enough to accommodate a young adult person. Therefore, you can easily enjoy different workout programs without any fear.
Pros
3 goal workout setting
14 tension resistance levels
Comfortable seat
Transportation wheels
Water bottle holder
Cons
Fairly basic console
Less preset programs
Seat not stay in place
Expert's Note
This bike is an excellent choice for light to medium cardio workouts, muscle toning, and stamina building. It can also help you lose weight; depending on the speed at which you pedal and the resistance settings used, you can burn up to 500 calories per hour.


Recumbent Bike Buying Guide
You need to keep several things in mind while looking for a recumbent exercise bike. The first thing to take care of is your body, then your safety. Observe these features when buying the best recumbent bike:
Adjustable Seat
First things first, before you choose the best recumbent bike, make sure that it comes with an adjustable seat. Now, what is its advantage? An adjustable seat could be moved as per your will and wish.
Therefore, it's rather easier for you to keep doing the workout while remaining in your comfort zone. An adjustable seat, in short, enhances the way you do exercise on a recumbent bike. For this reason, don't overlook this feature if you want a comfortable workout experience.
LCD Display
An LCD display, on one hand, enhances the way you are performing different workout programs and, on the other hand, it keeps your focus on attaining your goals. It's thus necessary to have an intuitive LCD screen fitted on your recumbent bike so that you can monitor your workouts with ease and convenience.
Safe and Ergonomic Pedals
You need to pay attention to the way the pedals are designed when choosing a recumbent bike. They must be located in an ergonomic position so that you can get your desired fitness results. Not only that but make sure that a safety strap is included within the pedals to keep you away from slipping issues and injuries.
Preset Programs
Last but not the least, having the availability of different preset programs in a recumbent bike improves its versatility. In addition to that, preset programs are designed to bring the best version out of you. They work like a virtual fitness trainer and will keep you agile and strong with proper focus and attention. Do consider this feature the next time you want to purchase a recumbent bike.
The availability of these features makes it more convenient to use the bike.
Some Last Words
Recumbent bikes are a modern exercise machine that allows you to get a great workout while sitting in a very comfortable position.
Unlike regular exercise machines, recumbent bikes really pay attention to making you as comfortable as possible when exercising. People with limited mobility or back pain can benefit greatly from these bikes, but they are also good for athletes in top form.
Incredibly effective workouts without damaging the back, knees, or other joints have become the basis for recumbent bikes. The recumbent bikes are the most effective exercise machines that you can buy if you want to enjoy your workout.