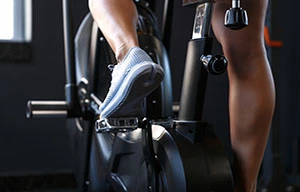 Maintenance of recumbent exercise bikes is essential because it will ensure that your bike remains in optimum conditions over a long period of time.
Tips to Maintain Recumbent Exercise Bike
Maintaining your recumbent bike might not take a lot of your time but there are lots of benefits that you can reap from servicing your bike every month or so.
There are some key aspects that you should know which will help you in the maintenance of your recumbent exercise bike. These are described below:
1. Maintenance of your recumbent exercise bike every 6 months or so
With each workout, the condition of your bike diminishes a little and after some time it requires some sort of adjustments and small repairing. There might be some parts that require lubrication or small wear and tear might be seen in the cables or the pedals. We recommend that you follow these steps.
Check the visible nuts and bolts for any loosen nuts which need to be tightened
Check the mechanical parts i.e. seals and bearing of the bike to ensure that they are lubricated and swift.
Check the pedals and handlebars for any wear and tear
Check the brake unit and the console to ensure that they are working properly
2. Thorough cleaning of the exercise bike after every intense workout
Every time we go in a challenging workout on the recumbent bike we come out with a lot of calories burned and we are often sweating crazily.
It is in the best interest of your own health and the condition of your exercise bike that you clean it thoroughly with the help of using a small cloth with a little water or the standard product which is used for cleaning bikes.
Make sure that you clean the sweat thoroughly from the sensors, handlebars, the padded seat, and the digital console. If you are efficient in your cleaning technique this might take you less than a minute.