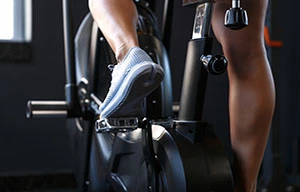 A Recumbent bike does not come cheap it is a wise investment, but you need to be mindful to keep it working for a long time.
It is important to understand that proper maintenance and cleaning can extend the life of the recumbent bike and prevent many problems even if it is used on a day-to-day basis.
Here is everything you need to know to clean and maintain your fitness equipment properly. A routine maintenance procedure can stop frequently occurring exercise bike troubleshooting.
Everyday Exercise Bike Cleaning
Every time we go in a challenging workout on the recumbent bike we come out with a lot of calories burned and we are often sweating crazily.
It is in the best interest of your own health and the condition of your exercise bike that you clean it thoroughly with the help of using a small cloth with a little water or the standard product which is used for cleaning bikes.
Make sure that you clean the sweat thoroughly from the sensors, handlebars, the padded seat, and the digital console. If you are efficient in your cleaning technique this might take you less than a minute.
Clean Frame
Clean your bike frame after each workout; the sweat is spread on handlebars, pulse sensors, console, and seat. Wipe all parts using a cloth with water and a standard cleaning product. The cleaning takes less than a minute but leaving sweat can print marks and damage the bike.
Direct Spray
Experts have advised never to spray cleaner directly onto the frame. Don't use petroleum-based products or abrasive liquids as they are more harmful to the paint and not recommended. A simple mixture of water and soap will do the perfect job of cleanliness.
Clean Dust
Either you are using or storing it, always clean any grease or dust development on the exercise bike. The minor negligence will degrade the overall performance and durability over time. Do clean the place around the bike a buildup of dust in the same place around the bike will get onto it in no time.
Tips to Maintain Recumbent Exercise Bike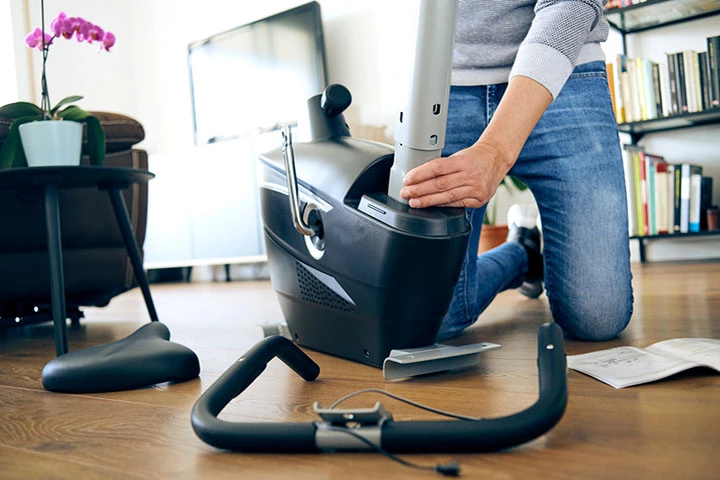 Maintaining your recumbent bike might not take a lot of your time but there are lots of benefits that you can reap from servicing your bike every month or so.
There are some key aspects that you should know which will help you in the maintenance of your recumbent exercise bike. These are described below:
Weekly Maintenance
Select a day in a week or the day you are on break to carry out a general check-up of your recumbent bike.
This check is totally focused on the bike's performance; you may require assistance initially to check loose assemblies and observe unnatural vibrations. You can look for the following parts:
Check it the bottom brackets are loosened up and require tightening.
Pedals and crank arms usually require tightening more often, checking it thoroughly, and tightening the pedals in front and crank.
Check the belt for any fault.
Closely look at the tightness of the screws.
Inspect the foot straps for any damage.
Monthly Maintenance
Carry out a comprehensive inspection of the overall frame and main assembly components of the bike on a monthly basis. Pay attention to the brakes, visible nuts and bolts, mechanical parts, and console.
Check the bearings and seals for lubrication; either they are providing a swift ride or not.
Inspect for any wear and tear around pedals and handlebars.
Although magnetic brakes do not require any special maintenance because they use contactless magnetic force, the contact braking system in a flywheel requires more care.
Half-Yearly Maintenance
With each workout, the condition of your bike diminishes a little and after some time it requires some sort of adjustments and small repairing.
There might be some parts that require lubrication or small wear and tear might be seen in the cables or the pedals. We recommend that you follow these steps.
Check the visible nuts and bolts for any loosen nuts which need to be tightened
Check the mechanical parts i.e. seals and bearing of the bike to ensure that they are lubricated and swift.
Check the pedals and handlebars for any wear and tear
Check the brake unit and the console to ensure that they are working properly
Some Last Words
Maintenance of recumbent exercise bikes is essential because it will ensure that your bike remains in optimum conditions over a long period of time.
Remember to keep the recumbent bike dry; daily cleaning and scheduled maintenance are sufficient to keep the machine working in a satisfactory condition.
But if you notice any squeaking or friction noises when pedaling, immediately look for the problem and do not wait for the next maintenance day.
Now you know how to properly maintain or clean the recumbent bike without any excuse, clean it regularly, and prepare a maintenance schedule accordingly.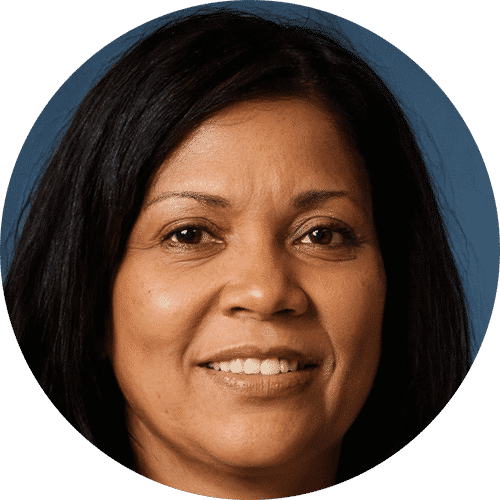 About Author
Research is the key to producing good content. Meghan Joye loves to write research-based articles. Her articles cover topics ranging from wellness, health, and self-improvement, to more lighthearted ones such as hobbies and pets. Meghan strength is that she can write.